Stress is a typical part of life. You may feel stressed when a situation doesn't turn out the way you intended. A bad test grade, marital problems, getting fired and breaking up with a significant other are all typical situations in which you may experience stress. However, excessive amounts of stress can lead to stress overload. Specifically, you might experience panic attacks, anxiety, depression and substance abuse.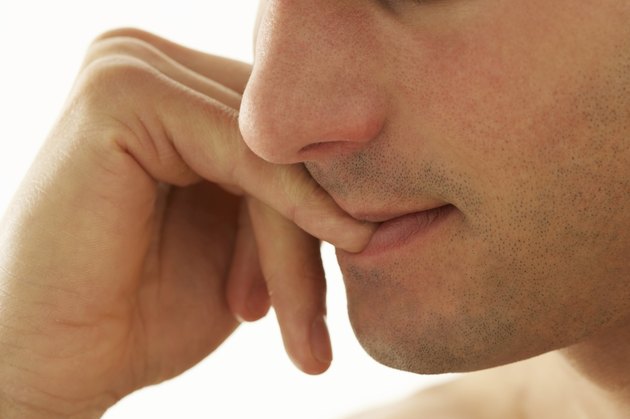 Anxiety
Excessive stress can lead to anxiety. According to FamilyDoctor.org, anxiety refers to a mental condition in which you are fearful and worried about a certain situation. Physical symptoms of anxiety include shortness of breath, muscle tension, a fast heartbeat and dizziness. Anxiety manifestations also include nausea, irritability, trouble sleeping, difficulty concentrating, trouble breathing and trembling. Anxiety occurs when the chemicals located in your brain (neurotransmitters) are decreased. You can take antidepressant medications such as fluoxetine to fill that brain chemical deficit. You can also learn to control your worry or fear and relax via exercise.
Panic Attacks
The Mayo Clinic says that panic attacks refer to an intense fear that manifests as physical symptoms. Symptoms of a panic attack include sweating, a fast heartbeat, chest pain, headache, dizziness, trouble swallowing and hyperventilation. You may also experience hot flashes, shortness of breath, chills and develop a feeling that you are going to die. Panic attacks develop suddenly and can be commonly mistaken as a heart attack. The Mayo Clinic says that panic attacks can last for 30 minutes or, in some cases, may last for hours or even an entire day. Treatment for a panic attack includes taking such medications as citalopram, duloxetine, nortriptyline or clonazepam. You can also see a psychiatrist or psychologist to participate in talk therapy.
Depression
Constant stress can also provoke depression. The Mayo Clinic says that depressive manifestations include crying spells, sadness, restlessness, irritability, unintentional weight gain or weight loss, fatigue, weakness, decreased sex drive (libido) and suicidal thoughts or behaviors. Antidepressant medications, talk therapy and shock therapy (electroconvulsive therapy) are just some of the treatments available to manage depression.
Alcoholism
Too much stress can also lead to alcohol abuse. MedlinePlus indicates that symptoms of alcoholism include the need to drink to repress a certain stress, anxiety or fear. You may drink more alcohol than necessary and purposely get drunk to be happy. Physical symptoms of alcoholism include stomach pain, confusion, drinking alone, nausea, vomiting and hostility when you are criticized about your drinking. You can enter a detoxification and rehabilitation center to treat alcoholism. Medications such as disulfiram, naltrexone and acamprosate can all help to manage the symptoms of alcoholism.
Other Symptoms
KidsHealth.org says that other symptoms of stress overload include moodiness, stomach problems, headaches, trouble sleeping and smoking excessively. You can also overeat and abuse prescription or illicit drugs such as cocaine or heroine. Tell your physician when stress becomes unmanageable for you so that he can help you figure out ways to cope with it.
Is This an Emergency?
If you are experiencing serious medical symptoms, seek emergency treatment immediately.