According to The Society of Chiropodists and Podiatrists, our feet carry us the equivalent of five times around the earth in an average lifetime. There are many occupations that require being on your feet all, or most, of the day, like nursing, retail and the restaurant industry. While you probably won't be able to change your work requirements, making sure you have the proper shoes can help alleviate foot and back pain and make your work more enjoyable.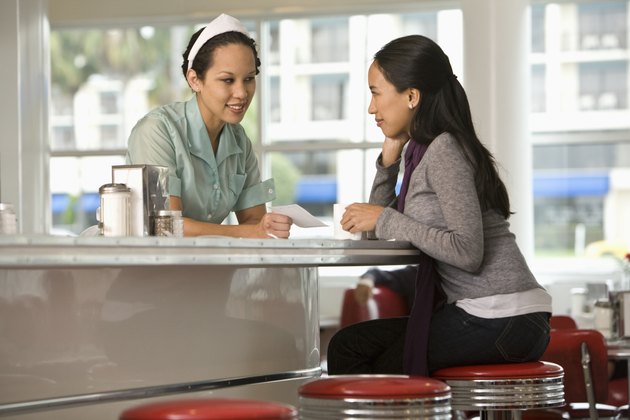 Shoes With a Low Heel
Contrary to popular belief, completely flat shoes are not recommended when standing on your feet all day. According to the Occupational Health Clinics for Ontario workers, your heel should be elevated by at least 1/4 inch. This allows the show to have a good arch support. Alternately, shoes with a heel of 2 inches or higher are not recommended.
Shoes With a Large Toe Box
Choose a shoe that has a wide toe box. Your feet tend to swell during the day, so try to shop for shoes in the late afternoon, when your feet are at their largest. Make sure there is "wiggle room" in the toe box of the shoe. If the shoes are tight or pinch in the store, they will become worse after a day on your feet.
Shoes With Laces
Wearing a shoe with a lace (or a velcro strap) will help stop your foot from sliding forward when walking. Shoe laces act in much the same way as a seat belt does -- it stops your foot from unwanted movement and protects it from injury.
Shoes With Good Arch Support
Choose shoes with good arch support. When shopping for shoes, consider shopping at a retailer that specializes in work shoes, rather than at a discount retailer. Explain what you will be using the shoes for and make sure that the shoes have adequate arch support or purchase an orthotic as a replacement insole for a more customized shoe.
Is This an Emergency?
If you are experiencing serious medical symptoms, seek emergency treatment immediately.