A concussion is a mild traumatic brain injury that affects the function of a person's brain. The Centers for Disease Control and Prevention divides the symptoms of concussion into 4 main groups: physical, cognitive, emotional and sleep-related. Some symptoms of a concussion can be delayed and, in some people, may persist for weeks, months or years. Effects of a concussion that persist beyond 3 months after the initial injury are called post-concussion syndrome.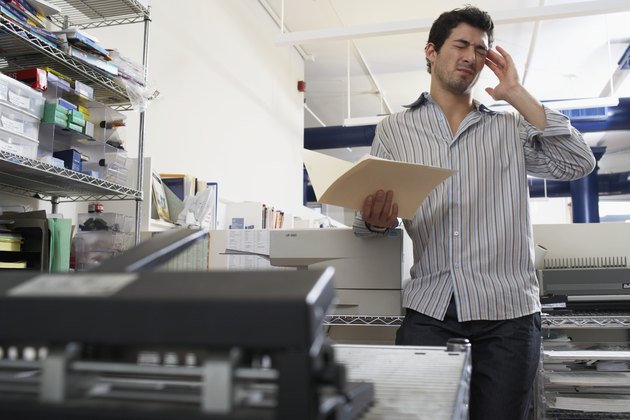 Physical Symptoms
Most people recover from a concussion within 3 months. But up to one-third have post-concussion syndrome, according to a March 2003 article in the "British Journal of Psychiatry." Headache and dizziness are among the most common physical symptoms after a concussion. It is not clear whether headaches that persist for months after a concussion are related to the severity of post-concussion syndrome or to overuse of medication in an attempt to obtain relief.
Other delayed physical symptoms include nausea and vomiting, balance problems and poor coordination. Vision-related delayed symptoms of a concussion include blurred or double vision and sensitivity to light. Some people report changes in their ability to taste and detect odors. Hearing problems may also occur.
Cognitive Symptoms
"Cognitive" means pertaining to thinking, and a concussion may affect a person's ability to think clearly. Delayed cognitive symptoms of a concussion include difficulty concentrating, learning or remembering things. Some people find they are forgetful about conversations or recent events. Some become easily overwhelmed by problems. A general feeling of being slow or mentally foggy can occur in the weeks and months after a concussion. Some people find that they answer questions slowly and frequently repeat questions.
Emotional Changes
Emotional symptoms are common after concussion. People who are stressed, anxious or depressed before their injury are more likely to experience post-concussion syndrome. Irritability and nervousness are among the emotions encountered. Some people who suffer a concussion notice an overall feeling of sadness, with some exhibiting symptoms of depression. Frustration or restlessness and being more emotional than usual can also occur. A concussion may cause impulsiveness, aggression or both.
Sleep Disturbances
Many people report a change in their sleep patterns in the weeks and months after a concussion. This has been characterized as trouble falling asleep, difficulty staying asleep or a change in the amount of sleep from before the injury. Daytime drowsiness after a concussion may also occur. Sleep disturbances in people with post-concussion syndrome tend to intensify problems with mood, memory, attention and learning.
Warnings
Monitoring symptoms for the first 24 to 48 hours after a concussion is essential. New or worsening symptoms may indicate a more severe injury. Seek immediate medical attention if one of more of these symptoms occurs: repeated vomiting; seizures; extreme drowsiness; numbness, weakness or inability to move an arm or leg; drooping of the face; neck pain; worsening headache; or severe agitation.
Is This an Emergency?
If you are experiencing serious medical symptoms, seek emergency treatment immediately.