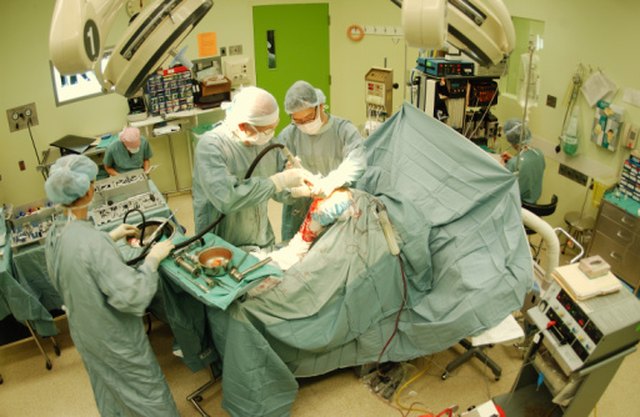 A knee replacement, or total knee arthroplasty, is a surgical procedure in which your severely damaged knee joint is replaced with an artificial joint. According to the American Academy of Orthopedic Surgeons, 581,000 knee replacements are performed each year in the United States. Of those, 90 percent of patients experience a dramatic decrease in symptoms. According to the Mayo Clinic, you should be able to resume daily activities three to six weeks after surgery. During this surgery, your orthopedist will remove many parts of your knee including bone, cartilage and ligaments.
Anterior Cruciate Ligament
During your surgery, your surgeon will detach your quadricep muscle from the kneecap (patella), then push the patella to the side. Now the femur and tibia will be exposed. Your surgeon will then remove the ends of these two bones in order to shape them for the artificial joint. After these bones are removed, your anterior cruciate ligament (ACL) will be removed along with the cartilage in your knee joint. In a normal joint, this ligament provides stability to your knee by preventing your tibia (shinbone) from sliding forward. Your ACL is no longer needed because the design of the artificial implant will provide the stability of the knee that the ACL provided.
Posterior Cruciate Ligament
In addition to your ACL, your posterior cruciate ligament (PCL) is likely removed during a total knee replacement, although it may sometime remain. This ligament provides stability to your knee by preventing your femur from sliding forward. The design of your artificial knee replacement prevents your femur from sliding, thus, your PCL is not necessary. However, your surgeon may keep it intact depending on the amount of femur and tibia removed during the procedure.
Lateral Collateral and Medial Collateral Ligaments
Your lateral collateral (LCL) and medial collateral (MCL) ligaments will remain in your knee. These ligaments prevent your knee from bending sideways either to the middle of your body or to the side of your body. They provide further stability that your artificial knee replacement cannot provide. Therefore, these ligaments will remain in your knee after surgery.