Does your weight fluctuate from one day to the next? Perhaps you have form-fitting clothes for your "skinny days" and loose clothes for your "fat days?" You're not alone. The average person can easily gain up to 4 pounds on any given day due to water weight. Certain foods, especially those high in sodium and carbs, only make things worse.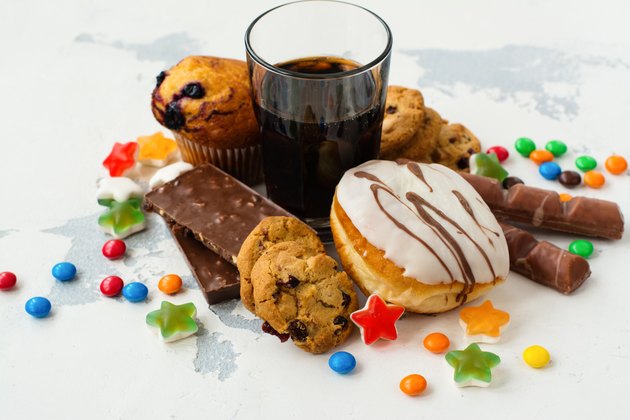 Tip
High-sodium and high-carb foods are often the culprits behind fluid retention. If you want to flatten your belly and lose water weight, cut out processed products and limit your daily carb intake.
What Causes Fluid Retention?
Imagine waking up with a puffy face, swollen eyelids and a general feeling of heaviness. You eat a balanced diet and work out regularly and yet, your weight goes up and down. You can clearly see that your legs are swollen and your belly looks bigger than ever. It's not your fault, though — water weight is the culprit.
Also known as fluid retention, this problem can have a variety of causes. Hormonal fluctuations, prolonged sitting, sunburn and certain medications are just a few to mention. A diet high in sodium and/or carbs may cause bloating and water retention too. According to the World Action on Salt & Health, eating too much salt causes the body to retain around 1.5 liters of extracellular fluid.
Water retention may also be due to hormonal fluctuations, such as those occurring before your period. As the Mayo Clinic notes, most women experience bloating and gain water weight one to two days (or even five days!) before their period starts. Sometimes, fluid retention indicates more serious conditions, such as liver or kidney disease, hypothyroidism, lupus, arthritis or heart failure. Allergic reactions and certain drugs, such as corticosteroids and contraceptives, may contribute to this problem too.
Foods That Cause Water Retention
From smoked meat and potato chips to pasta, hundreds of foods may cause bloating and water retention. In general, high-carb and high-sodium products have the biggest impact. If you eat smoked salmon or pasta for dinner, expect to weigh more the next day.
Salty foods, for example, increase thirst, causing you to drink more water. At the same time, urine volume remains unchanged, according to a 2017 study published in the Annals of Nutrition & Metabolism. Therefore, your body retains the extra fluid consumed, which leads to weight gain. A high-sodium diet also contributes to hypertension and puts stress on the kidneys.
High-carb foods may cause water weight gain too. After ingestion, carbs are converted to glucose and used for energy, and the excess is stored in the muscles and liver. According to a 2015 research paper in the European Journal of Applied Physiology, the human body retains at least three grams of water for every gram of glycogen stored in muscle. That's why it's not uncommon to have puffy eyes and swollen legs after eating pizza, cookies, cakes, lasagna or fries.
Cut Back on Salt
Water weight gain can be frustrating at the least, especially if you're on a diet. One way to prevent it is to cut back on salt. The American Heart Association recommends consuming 1,500 milligrams to 2,300 milligrams of sodium per day. The following foods are high in sodium, so they may cause bloating and water retention:
Cured, smoked or canned meat and fish
Deli meats
Canned soups
Canned vegetables
Pizza
Savory snacks
Commercial sauces and salad dressings
Pickled vegetables
Sauerkraut
Noodle mixes
Cheese spreads and most types of cheese
Buttermilk
Prepackaged mixes for pasta, rice and other dishes
Pastries
Frozen dinners
Marinades
Instant pudding
More than 75 percent of daily salt intake comes from processed foods. Fresh fruits, vegetables, nuts and other whole, natural foods have no added salt. They do contain sodium — but a lot less than their processed counterparts.