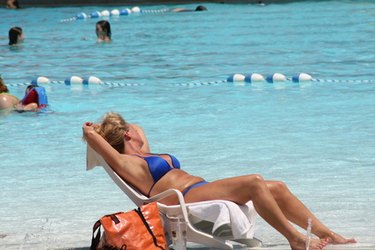 Vinegar has antiseptic properties that can kill germs and relieve pain, according to Bonnie K. McMillen, R.N., B.S.N., college health nurse at the University of Pittsburgh at Bradford. If you are experiencing pain from a sunburn, you may want to reach for a bottle of vinegar to soothe your discomfort. Vinegar helps to balance the pH (acid or alkalinity) of sunburned skin, promoting healing. Vinegar will also reduce the likelihood that your skin will form blisters after burning.
Step 1
Fill a spray bottle with apple cider vinegar or white distilled vinegar. Which one you choose is a matter of convenience--they work equally well.
Step 2
Lightly mist the sunburned areas of your body with the vinegar spray from the bottle. Spray the sunburn every few hours or whenever the pain returns.
Step 3
Spray a cotton ball with vinegar. Lightly dab sunburned areas of your face with the cotton ball. Repeat as needed.
Step 4
Add two cups of apple cider vinegar or distilled white vinegar to warm bathwater. Sit in the bath for approximately 15 minutes, allowing the vinegar bath to soothe and relieve your sunburned skin.
Step 5
Soak a washcloth with apple cider vinegar or distilled white vinegar. Lay the washcloth on the sunburned area for approximately 15 minutes. Repeat if necessary.
Things You'll Need
Spray bottle

Apple cider vinegar or distilled white vinegar

Cotton ball

Warm bathwater

Washcloth

Yogurt
Tip
Compliment your vinegar bath by coating your sunburned skin with yogurt. Allow the yogurt to sit on your skin for 10 minutes. Remove the yogurt after the 10-minute waiting period with cool water.
Warning
Do not spray the vinegar on your face. If you get the vinegar in your eyes, it can burn. Always use the cotton ball to apply the vinegar to your face.
Call your doctor immediately if you begin to experience fever, blisters or chills after receiving a sunburn.
Keep the vinegar spray out of the reach of pets and small children.