Menstrual cycles that vary in length from month to month are considered irregular. There are many causes for an irregular menstrual cycle. Occasionally irregular periods can be a sign of more serious health problems that may require a doctor's attention. However, more common reasons are usually to blame. Stressful life events, eating disorders, hormone imbalances, and poor nutrition are all typical causes. In cases like these, natural methods can be implemented at home to regulate the menstrual cycle.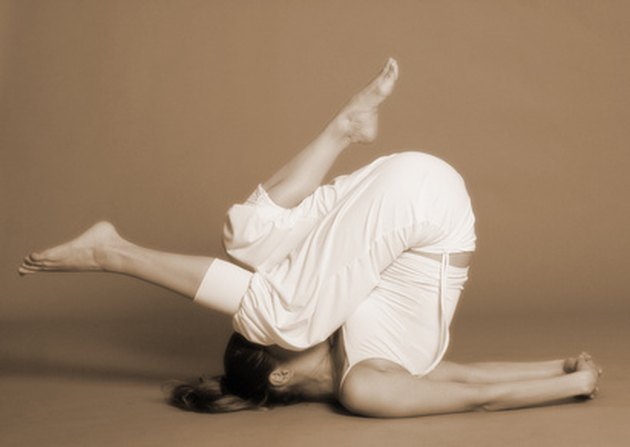 Herbs
According to "Herbs for Health and Healing", some herbs can help balance hormones, which is a common reason for an irregular menstrual cycle. Helpful herbs include aloe vera juice, ginseng, motherwort, vitex, skullcap, licorice and don quai. Typically, herbs are taken 2 weeks before the start of a woman's menstrual period. Most come in supplement forms, but aloe vera juice comes ready to drink in a bottle. Herbs can also be boiled down into teas and tonics.
Stress reduction
Stress can cause an imbalance of hormones, resulting in a irregular period. The Women to Women website states that stress can change the proteins within the brain physically, interrupting the signals that tell the body to ovulate. The Epigee website suggests finding ways to reduce stress in order to help regulate a woman's menstrual cycle. Some examples can include, yoga, reading, meditating, watching television or hanging out with friends or family.
Diet
The Women to Women website explains that a healthy, balanced diet rich in fruits and vegetables can help regulate a menstrual cycle. Reducing the consumption of refined carbohydrates may also help. In addition, the United States Department of Agriculture has created a food pyramid that can be customized by age or life situation. By using the food pyramid, a woman can make sure she is receiving adequate nutrition. Because busy schedules can sometimes lead to poor eating habits, the Women to Women website suggests taking vitamin supplements to bridge any nutrition gaps.
Exercise
The Women to Women website also says that regular, moderate exercise can help regulate periods. However, it is important to make sure the exercise routine is appropriate. Over exercising can actually cause a disruption in the menstrual cycle. If this is a suspected cause for an irregular period, try reducing the amount of physical activity until the menstrual cycle becomes normal once again.