Estrogen is a female hormone that plays a main role in maintaining female sex characteristics and monthly menstrual cycles. Estrogen levels usually drop at the time of menopause, but can also drop if ovaries are removed or in certain disease processes. A drop in estrogen is responsible for most of the symptoms of menopause.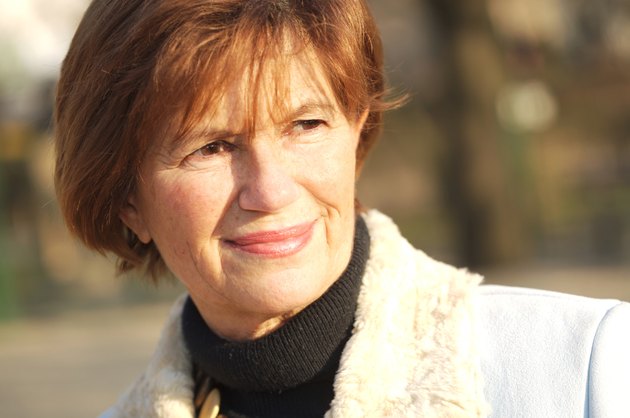 Hot Flashes
A drop in estrogen levels causes hot flashes, also known as hot flushes, in nearly half of all women, Harvard Women's Health Watch reports. Hot flashes are sudden feelings of warmth, accompanied by flushing, chills, sweating and, often, feelings of disorientation or confusion. Hot flashes last five to 10 minutes and may cause sleep disturbances due to the soaking sweats that occur with them.
Infertility
An inability to become pregnant may be a sign of low estrogen levels in women who experience menopause before age 40, known as premature ovarian failure (POF). Periods become irregular, because the woman isn't ovulating each month, and bleeding may be scant. POF may be genetic, or may be related to surgery or disease. POF may be permanent or reversible, the University of Michigan Health System (UMHS) states. Women with POF can, in some cases, get pregnant with the help of fertility treatments to induce ovulation.
Low Bone Denisty
Osteoporosis or osteopenia, lower than normal bone mass, may develop in women with low estrogen. Estrogen helps move calcium into bones. Estrogen replacement therapy was shown to be as effective as bisphosphonates treatment for osteoporosis, the University of Washington reported, but long-term estrogen replacement does increase the risk of blood clots, heart attack, stroke and breast cancer, according to UMHS.
Urogenital Symptoms
Low estrogen levels have many negative vaginal and urinary effects. Vaginal and clitoral atrophy, or shrinking, vaginal dryness and irritation are common in women with low estrogen levels. Vaginal walls become thin and easily irritated, making sex uncomfortable. Urinary tract infections occur more often, and urinary incontinence, frequency and urgency may also increase as a result of relaxed pelvic muscles.
Other Symptoms
When estrogen levels drops, breasts may shrink and sag. Fat distribution changes, with more fat accumulating in the abdomen. Hair on the head may become thinner, while facial hair may increase. Dizziness, heart palpitations and rapid heartbeat may occur, Cedar-Sinai Medical Center states.