When a man discovers that one or both of his testicles, or testes, is swollen and his scrotum has become enlarged, he might become extremely concerned. Several problems can cause testicular or scrotal swelling. Fortunately, most of these conditions can be successfully treated, especially if diagnosed early. If you experience testicular swelling or have any questions about this condition, talk with your family doctor or a urology specialist.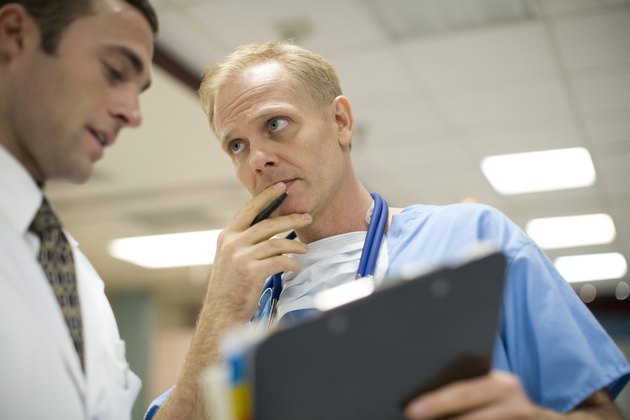 Infection
Infection can develop in the testis itself or the epididymis -- a duct that connects the testis with the urine tube, or urethra -- and spread to the testis. These problems, called orchitis and epididymitis, respectively, often cause testicular swelling and scrotal pain. You may also have a fever. Orchitis and epididymitis occur most often in males between the ages of 14 and 35, according to a paper in the April 2009 issue of "American Family Physician." The infections are often caused by the same bacteria responsible for the sexually transmitted infections chlamydia and gonorrhea. Infection with the mumps virus can also cause orchitis, a problem that can cause infertility when it occurs in adults. According to a study published in the April 2010 issue of "British Journal of Urology International," cases of mumps orchitis among adults have increased, likely due to reduced vaccination of children against mumps in the 1990s.
Testicular Torsion
Although the testis is located in the scrotum, it gets its blood supply from an artery that originates in the abdomen. The artery courses through the groin as part of a structure called the spermatic cord to reach the testis. In a rare but potentially serious condition called testicular torsion, the testis twists around the spermatic cord. This twisting cuts off the blood supply to the testicle, causing swelling and pain. Testicular torsion can happen because of an injury or because of a congenitally loose attachment of the testicle to the scrotum. A rare problem that occurs in about 1 in 4,000 men under age 25, torsion can be an emergency and requires immediate medical evaluation. Emergency surgery is often needed to restore blood flow and prevent testicular injury.
Cancer
Testicular cancer can also cause swelling of the testis. Swelling is usually -- but not always -- limited to one side. A cancerous tumor might cause a noticeable lump on the testis, but it can also lead to generalized swelling, sometimes accompanied by pain or discomfort. Testicular cancer is relatively rare cancer, typically affecting males 15 to 34, although it can develop at any age. It is more common in Caucasian men than men of other ethnicities. Fortunately, testicular cancer is usually a highly treatable cancer, especially when detected early through regular self-exams.
Other Causes
A problem called varicocele can also cause testicular swelling, or enlargement of the entire scrotum. The veins that carry blood from the testis back to the heart form a network in the spermatic cord. Sometimes, veins in this network enlarge and function poorly. This causes blood to pool or flow too slowly, leading to backup of blood in the testis and swelling. Varicocele usually develops slowly and is most common in young men. Because of the architecture of the testicular blood supply, it tends to develop most often on the left side and can usually be treated with surgery or other procedures. Another disorder called spermatocele can also cause testicular swelling. This noncancerous condition arises when a fluid-filled cyst develops in the testis or epididymis. It might cause no symptoms but may lead to noticeable swelling of the testis.