Overview
Who doesn't love a smoothie? No one, that's who. It's a thick, delicious way to get nutrients and energy into your body, and it travels well when you're in a rush. Unfortunately, it's also often the equivalent of a giant, decadent, slurpable dessert that causes carb overload and blood sugar spikes. But don't get yourself all in a tizzy: There's no need to give up on this beloved food trend just yet. These ingenious, diabetes-friendly smoothie recipes are great alternatives. They're all made from whole produce (including fresh veggies), and they all include edible skins, which provide an extra punch of fiber and plant-based nutrients. To help blunt blood sugar spikes and boost satiety, every smoothie cleverly contains a source of protein or healthy fat (or both), such as Greek yogurt, skyr, kefir, seeds, tofu, almond butter and even white beans. Something different? For sure. But trust us, they're all delicious — and you'll love them even more for sparing you the huge sugar crash.
1. Cherry "Cheesecake" Smoothie
This pretty, pink, cheesecake-inspired smoothie is made with Neufchatel, a lighter version of cream cheese available in most supermarkets. Plain, fat-free Greek yogurt adds low-calorie creaminess along with plenty of protein and probiotics, while frozen cherries provide fruitiness. Plus, research suggests sweet cherries may have anti-diabetic potential, thanks to their phenolic compounds. Finally, for the "crust," you'll dunk a whole-grain graham cracker square into your cool smoothie.
2. Green Superfood Smoothie Jar
Green is the theme of this smoothie made of spinach, cucumber, broccoli, mint and green tea. (A review of the research finds that green tea has antioxidant and anti-inflammatory effects, which may play a helpful role in the treatment of Type 2 diabetes for obese adults.) Frozen mango lends a creamy sweetness, while lemon juice, ginger root and turmeric offer a little extra zing. Finally, shelled hemp seeds add a solid one-two punch of plant-based protein and healthy fat.
3. Peach Melba Smoothie
This summertime smoothie is a reboot of peach melba, the classic dessert made with vanilla ice cream and peaches and drizzled with raspberry sauce. Here, you'll slice up fresh peaches and freeze them with the fuzzy skin on for an extra dose of fiber. Fat-free milk provides plenty of high-quality protein and a creamy texture, while flaxseed meal adds even more satiating protein and fiber. Of course, it's the vanilla and almond extracts that will make this truly feel like dessert. To finish, you'll mash fresh raspberries to create a vibrant, real fruit topping.
4. Grass-Fed Tzatziki Kefir Smoothie
Craving something more savory than sweet? Try this Mediterranean-inspired recipe made with Greek yogurt, kefir, cucumber, mint, dill, extra-virgin olive oil, lemon juice, garlic and sea salt. You can sip it as a smoothie or enjoy as a chilled soup! The yogurt and kefir provide plenty of protein and probiotics. Opt for the 100 percent grass-fed versions of both, which generally have more health-promoting conjugated linoleic acid (CLA) than their conventional counterparts. In fact, research shows that CLA may be beneficial for insulin regulation.
5. Silken Dark Chocolate-Mint Smoothie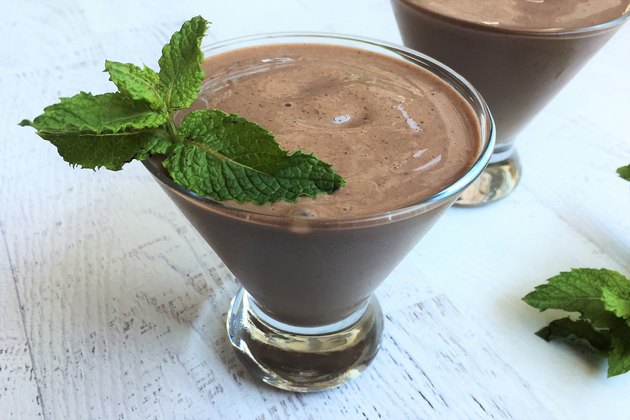 Chocolate and mint are a classic combo (hello, Junior Mints, Thin Mints and more). Fortunately, you can enjoy the pairing without loading up on sugar. The sweetness in this smoothie comes from banana, which also adds to the creaminess, along with organic silken tofu and almond milk. Vanilla and peppermint extracts, fresh mint and unsweetened cocoa powder create the coveted flavor profile. Adjust the cocoa powder to taste, but don't be shy — it has zero sugar plus polyphenols, which show potential benefit for glucose metabolism.
6. Cinnamon Apple Orchard Smoothie
Behold, a healthy version of apple pie a la mode! It starts with apples, of course. You won't even have to peel them, which means more fiber for you. Cube then microwave or bake the apples until soft, and then freeze. Toss the frozen apple cubes, skyr (a protein-rich Icelandic-style yogurt), almond milk, lemon juice, cinnamon and ginger in a blender and blend until smooth. Insert straw and enjoy!
7. Berry Lover's Pulse Smoothie
"Pulse" is the name for the seeds of legumes, including beans, lentils and peas. In this case it is cannellini beans. Regular consumption of beans or lentils as part of a low-glycemic diet may help lower blood A1C levels in people with Type 2 diabetes. And if it sounds a little strange, just trust us: not only do they provide protein and soluble fiber, but they lend a velvety creaminess to the texture and fully take on the flavors of whatever they're blended with. In this case, that is frozen berries and mango, chilled unsweetened green tea and just a squirt of lime juice.
8. Chia Mango Smoothie
Here is a twist on a mango lassi, a classic yogurt-based beverage from India. This incredibly creamy version is made with frozen mango cubes, plain Greek yogurt and almond milk. It gets an extra pop of flavor from lemon juice and ground cardamom, while chia seeds provide textural intrigue as well as a boost of protein, fiber and omega-3 fats. Because the chia seeds become gelatinous as they absorb liquid, the smoothie doesn't get watery while sitting — and it satisfies long after the glass is empty.
9. Creamy Avocado Cucumber Smoothie
If you took the concept of green juice, transformed it into a thick smoothie and gave it a savory kick, this smoothie is what you'd end up with! Its greenness comes from avocado, cucumber, spinach, mint, serrano pepper and green tea. The avocado and almond butter provide creaminess and healthful fat, freshly grated apple lends a subtle sweetness and lemon juice and ginger give a hint of zing. Finally, you'll finish this smoothie with salt and pepper. Yes, really! The result is a little bit sweet, a little bit salty, a little spicy and a whole lot delicious!
10. Almond Butter and Blueberry Smash Smoothie
Like PB&J? Then try this AB&B for a fabulous, healthful variation made with almond butter, frozen blueberries and no-sugar-added raspberry fruit spread. Rounding out the recipe are almond milk, Greek yogurt, pure vanilla extract, fresh lemon juice and zest and a pinch of sea salt to balance sweetness. No need to rely on protein powder to power up this smoothie; the pairing of Greek yogurt and almond butter provides all the wholesome protein you need.
What Do YOU Think?
Do you think smoothies can be a regular part of a diabetes-friendly diet? Why or why not? What is your favorite smoothie to make? Please leave a comment below and let us know.