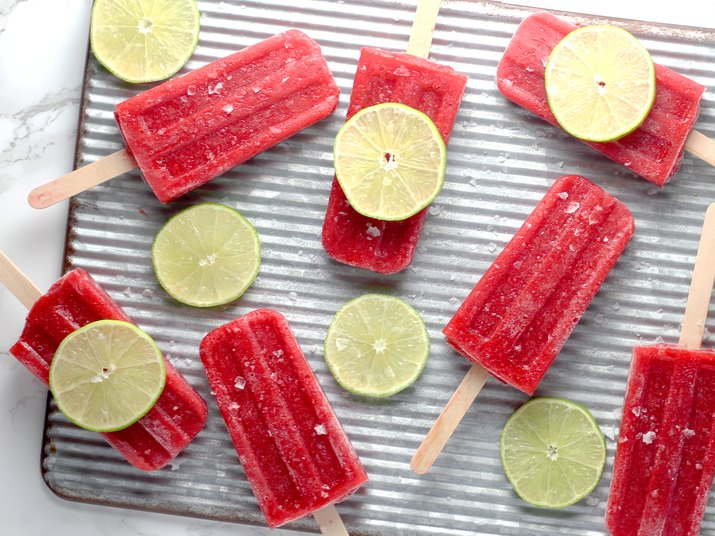 1 of 12
When we think about dessert, we don't often think healthy. And if we do, we certainly don't expect colorful, flavorful treats. Too often, snacks and desserts that are low in calories tend to disappoint in the flavor department, plus they're loaded with sugar and lack visual appeal.
Unwilling to give up our favorite summertime treat, we've created 10 unique and simple DIY Popsicle recipes that all come in under 200 calories to keep you cool and satisfied. And what's even better, most of these are vegan or dairy-free, and all are void of refined sugar. Try them out for yourself and take note of the few "adult-only" versions that you'll definitely want to serve at your next summer barbecue.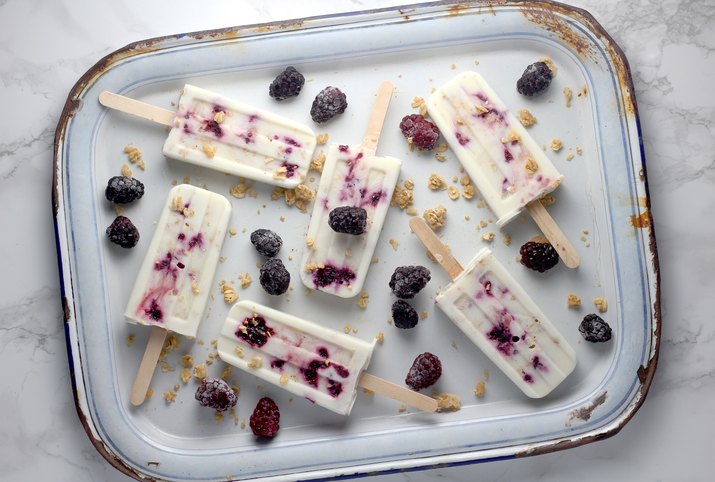 2 of 12
Yogurt, Granola and Blackberry Parfait Popsicles
Popsicles for breakfast? Absolutely! Especially when those pops are made with fruit, yogurt and granola. Creamy Greek yogurt is lightly sweetened with a bit of honey, then layered with cooked berries and low-fat granola. They are as delicious as they are pretty, and they will become your secret weapon on busy mornings (aka every morning).
These Popsicles are also incredibly versatile. Replace the blackberries with chopped peaches, substitute maple syrup for the honey — it's all good. ​Insider tip:​ Don't skip cooking your berries before adding them to the mix. If you toss the raw fruit into your pops, they will freeze up rock-hard and cause the Popsicles to break as they come out of the molds.
​Recipe and Nutritional Info: ​Yogurt, Granola and Blackberry Parfait Popsicles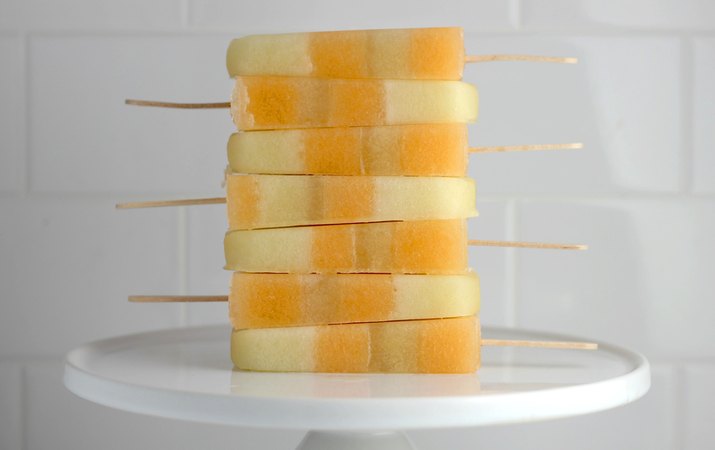 3 of 12
Honeydew Cantaloupe Popsicles
Stripes are always in style, and these deceptively simple Popsicles are no exception. In-season honeydew and cantaloupe are naturally sweet, and their pastel hues make for the prettiest pops. How did we achieve the stripes? We pureed the melons with a bit of fresh lime juice, then layered in the Popsicle molds. Love watermelon? That works too, so feel free to go for some triple-stripe pops if you're so inclined. Best of all, these treats are vegan and dairy-free. ​Insider tip:​ Wait for each layer to freeze before adding the next.
​Recipe and Nutritional Info: ​Honeydew Cantaloupe Popsicle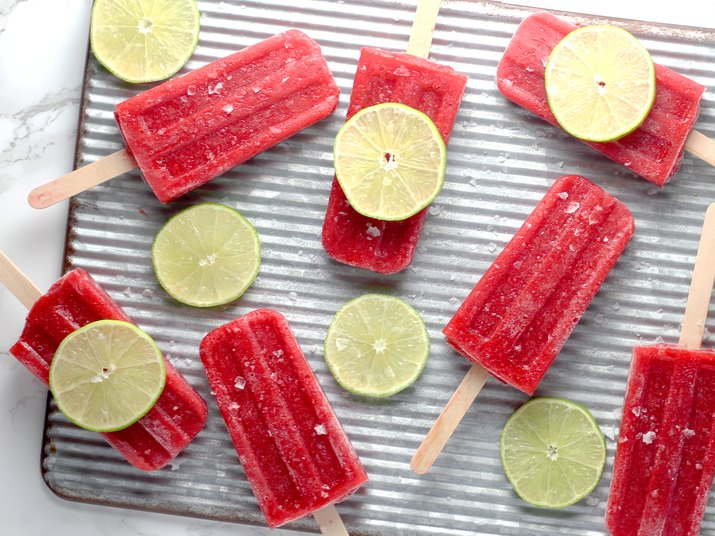 4 of 12
Strawberry Margarita Popsicles
Whoever said Popsicles were a kids-only treat? These pretty and refreshing strawberry margarita pops, made with lots of fresh berries, lime juice, tequila and a pinch of flaky sea salt, are the delicious answer to a long, hot day.
Mix all the ingredients in the blender for five minutes and then freeze. Dial the tequila up or down to suit your taste, or even eliminate it for a more family-friendly treat. They are just as delicious with any fruit you might want (think watermelon or pineapple), so feel free to substitute or even blend your favorite flavors.
​Recipe and Nutritional Info: ​Strawberry Margarita Popsicle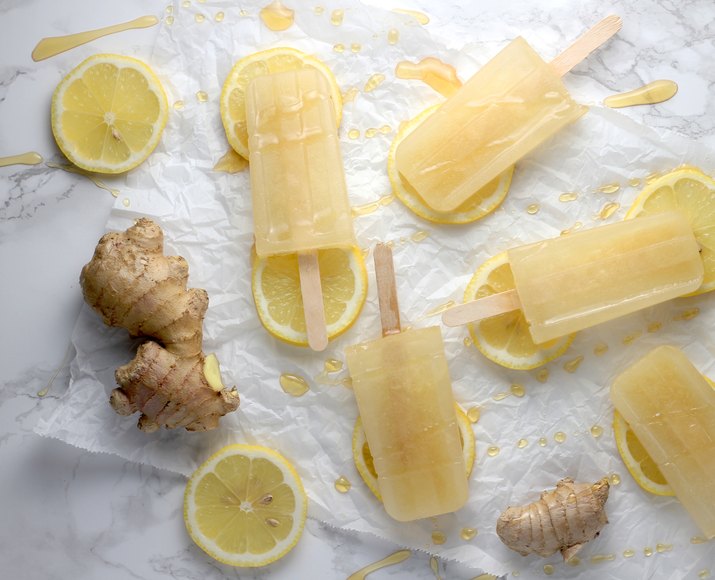 5 of 12
Honey Ginger Tea Popsicles
If you turn to a hot cup of tea to soothe a sore or scratchy throat, think of these pops as the summertime version of this at-home remedy. These pretty Popsicles are brewed up with lemon, honey, ginger and chamomile tea and are as delicious as they are soothing.
For those that like a bit a heat, add a pinch of cayenne to the mix before freezing. And don't be surprised if you find yourself whipping up a batch of these vegan and dairy-free treats in the dead of winter — they're that good.
​Recipe and Nutritional Info: ​Honey Ginger Tea Popsicles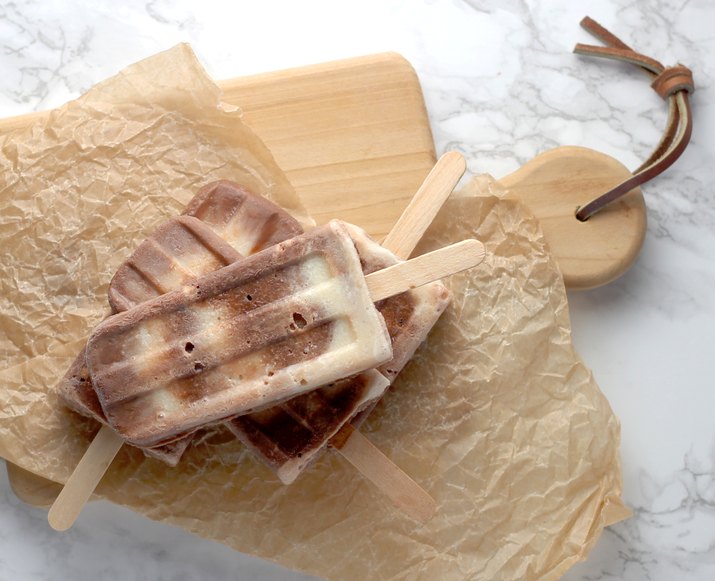 6 of 12
Black-and-White Popsicles
If you're a fan of black-and-white cookies or loved those half chocolate, half vanilla ice-cream cups as a kid (remember the little wooden spoons they came with?), then you're going to love these pops. With four simple ingredients and 10 minutes of prep, these pretty, marbled Popsicles are ready for the freezer.
For the vegans in your life (or those with a dairy allergy), swap the yogurt and milk for two cups of your favorite dairy-free yogurt. Honey or agave syrup also works beautifully in place of the maple syrup.
​Recipe and Nutritional Info: ​Black-and-White Popsicles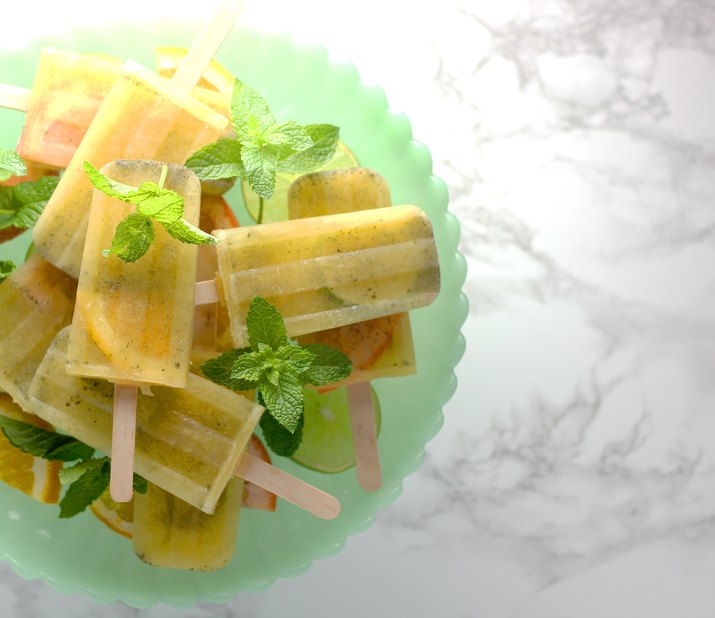 7 of 12
When you think about it, it's only a hop, skip and a jump to get from an ice-cold cocktail to an ice-cold Popsicle, and this twist on the classic mojito is a perfect example. An easy-to-make, mint-infused simple syrup forms the base for these pretty and refreshing pops, filled with more mint and plenty of fresh citrus juice. You can use your choice of orange or grapefruit juice, or blend them up as we did here. And feel free to eliminate the rum to makes these a kid-friendly treat.
​Recipe and Nutritional Info: ​Citrus Mojito Popsicles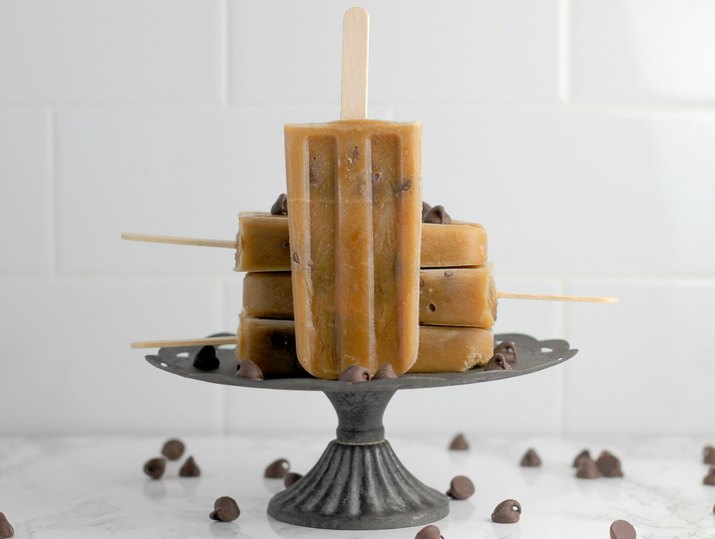 8 of 12
Does your day feel incomplete without that midafternoon pick-me-up? Then these mocha chip pops are for you. In the recipe, milk, protein powder and instant espresso are blended together and layered with a few chocolate chips. If you want to make these Popsicles vegan, simply swap in almond milk and dairy-free chocolate chips.
​Recipe and Nutritional Info: ​Mocha Chip Popsicles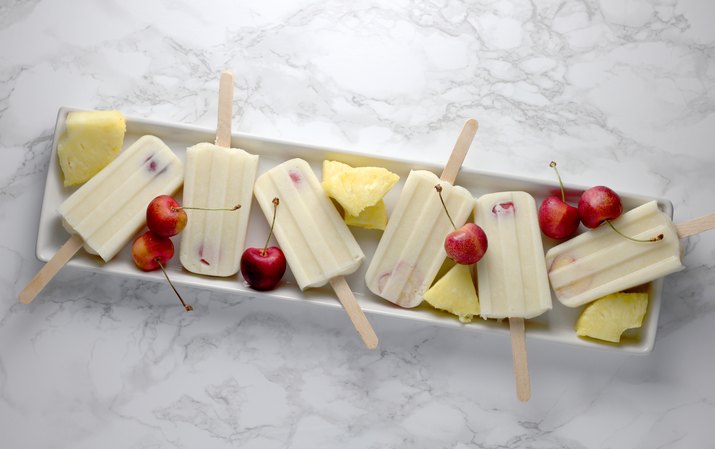 9 of 12
Pineapple and coconut is a classic fruit combination that forms the base for delicious cocktails, so why not try it in an equally fabulous Popsicle? Coconut milk is naturally vegan and dairy-free and blends up into a creamy treat that is as rich as any ice cream. We didn't forget the cherries either. (Because what pina colada would be complete without them?) But we did swap those artificially dyed and sweetened maraschinos for fresh, naturally sweet cherries. These are so good you won't even miss the little cocktail umbrellas.
​Recipe and Nutritional Info: ​Pina Colada Popsicles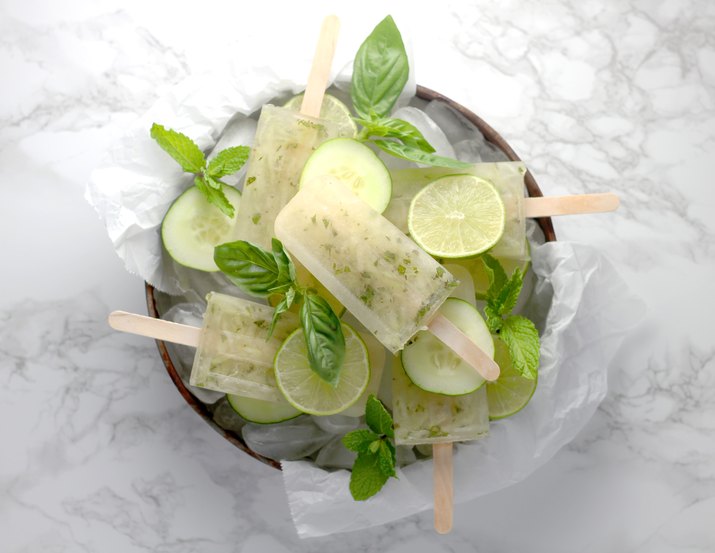 10 of 12
Cucumber Lime Herb Popsicles
Drinking infused or flavored water is all the rage, but we bet you're going to love these cool, refreshing pops even more. They are made with a basil-infused simple syrup, fresh lime juice, grated cucumber and sprigs of fresh mint.
Don't get intimidated by making your own simple syrup — it's not called simple for nothing. Bring water and your choice of sweetener to a boil along with any additional flavors you would like (we use fresh basil here). Cool, strain and add the syrup to the rest of the ingredients before freezing. Make sure to grab your fluffy robe, place some cucumber slices on your eyes and relax with these "spa-sicles."
​Recipe and Nutritional Info:​ Cucumber Lime Herb Pops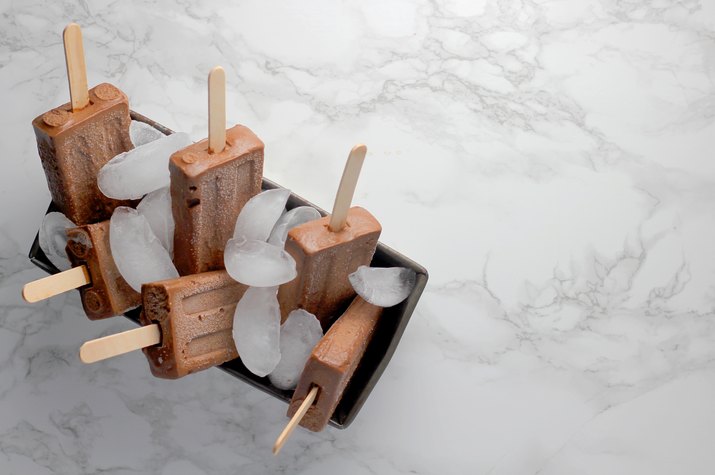 11 of 12
Chocolate Almond Butter Banana Popsicles
Have you heard of one-ingredient banana ice cream? That's right, one ingredient. Sliced, frozen bananas, when pureed in your food processor, become a creamy mixture that magically transforms in your freezer. The result? A sugar-free, dairy-free ice cream. Even better, you can add any number of flavors and mix-ins to customize this treat. And, yes, you can even turn it into a batch of Popsicles. Here we've mixed in unsweetened cocoa powder and almond butter, and lightly sweetened the batch with a bit of honey.
​Recipe and Nutritional Info: ​Chocolate Almond Butter Banana Popsicles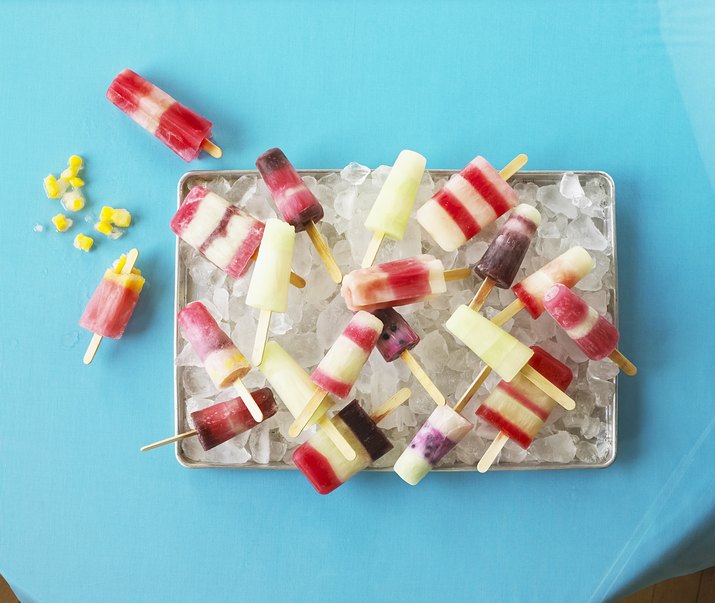 12 of 12
Which of these Popsicles do you want to try first? What's your favorite flavor Popsicle? Let us know in the comments below!
Image Credit:

"Noguchi, Vincent"/Foodcollection/GettyImages
---