The apple is one of the healthiest fruits available and it is the main ingredient in Bragg apple cider vinegar. The vinegar is rich in potassium and supports a healthy immune system. Claims say this product helps control weight, eases digestion and muscle pain, keeps skin healthy, and soothes sore throats. Research is minimal, but minor side effects have been reported. As with any supplement, it is important to understand possible contraindications. If you take blood thinner or thyroid medications or are a diabetic, it is recommended that you check with your health care practitioner before using apple cider vinegar.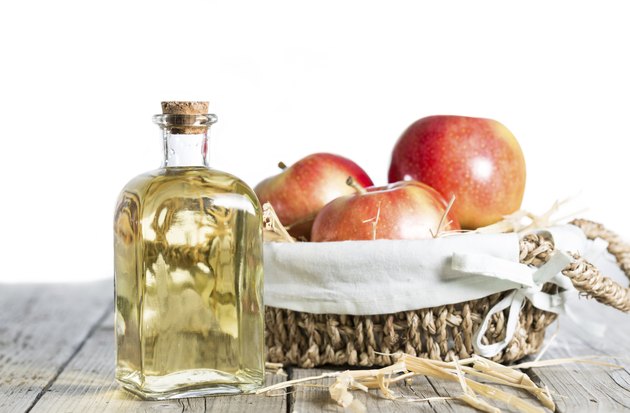 Gastrointestinal Issues
The acidity in Bragg and other brands of apple cider vinegar can cause digestive problems and stomach upset. Nausea, heartburn and indigestion are the most common side effects. Individuals who struggle with ulcers not caused by bacteria could potentially have additional stomach irritation. You may dilute the vinegar with water or honey to curb gastrointestinal side effects.
Allergic Reaction
It is possible to have an allergic reaction to apple cider vinegar, including Bragg. Reports of reactions include itching and swelling, hives, rash, and breathing problems. If you experience an allergic reaction, stop taking the vinegar immediately and consult a health care practitioner.
Low Bone Density Warning
Long-term use of apple cider vinegar can cause low potassium and decrease bone density. If you have issues with low bone density or osteoporosis, apple cider vinegar is not a recommended dietary supplement.
Dental Concerns
Due to the acid base in Bragg apple cider vinegar, undiluted oral consumption is discouraged. The vinegar yellows the teeth and can erode dental enamel, which causes increased sensitivity to cold and hot liquids. In order to avoid this side effect, use a straw when drinking, dilute the vinegar with honey or water and rinse the mouth or brush the teeth after consumption. To reduce dental concerns, apple cider vinegar can also be used in a cool-mist vaporizer. Mix 1 - 2 cups of apple cider vinegar with 1 gallon of water and place the vaporizer next to the bed.