Epsom salt is known as magnesium sulfate, which is used in agriculture to enrich soil that lacks magnesium. It is also traditionally used for treating sore and painful muscles by soaking in a bath of warm water mixed with one or two cups of Epsom salt. For medical purposes, some people use Epsom salt as a laxative, bronchodilator and blackhead treatment. The key ingredients that make up Epsom salts are magnesium, sulfur, oxygen and water.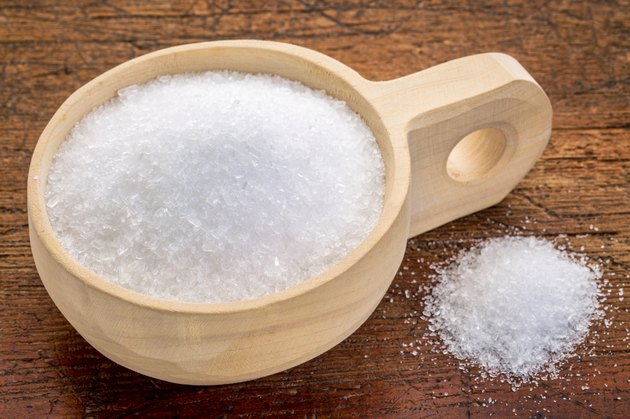 Magnesium
In your body, magnesium aids in calcium absorption in the digestive tract, transmitting nerve impulses and processing DNA synthesis. If you take too much magnesium, it is excreted through urine; however, kidney failure can happen if you take excess magnesium frequently. This is known as hypermagnesemia. Magnesium deficiency causes nausea, diarrhea, insomnia, muscle weakness, difficulty breathing and irregular heartbeat.
Sources of food that contain high amounts of magnesium include green leafy vegetables, cashews, almonds, seeds, and fortified breakfast cereals.
Sulfur
Although sulfur is toxic in its element form, some of your body's amino acids, which are the basic building blocks of protein, contain sulfur as part of their structure. Amino acids with sulfur are in nonionic form, meaning that they do not have an electrical charge. Amino acids that contain sulfur include cysteine, cystine, methionine, homocysteine, homocystine and taurine. Sulfur also plays a role in bonding proteins, particularly in keratin, which is a type of protein that is a basic component of hair and skin.
Ionic forms of sulfur, such as sulfate, balance the acid-base levels in the blood and help detoxify certain drugs in the body.
Good sources of sulfur include any protein-rich foods, such as eggs, meats, legumes, nuts and seeds.
Oxygen
Oxygen is a highly flammable gas that makes up 21 percent of the Earth's atmosphere. In your body, oxygen plays a vital role in aerobic respiration in cells by exchanging oxygen and sugar to carbon dioxide and water. Almost every component in your body, such as sugar, proteins, fats and water, all contain oxygen as part of their structures.
Water
Epsom salt often contains water because it absorbs water from the air easily. Therefore, it dissolves easily in water with little mixing, and it makes an excellent drying agent to absorb moisture.