Jojoba oil comes from the jojoba plant, Simmondsia chinensis, which grows in the western United States. You can use this oil as a moisturizer for dry or damaged hair. Although it's called an oil by the beauty industry, jojoba is a wax ester full of fatty acids. According to Acne.org, jojoba oil is organically close to human skin oil. Once processed, jojoba is lightweight and noncomedogenic, making it a popular choice for cosmetics and moisturizing products.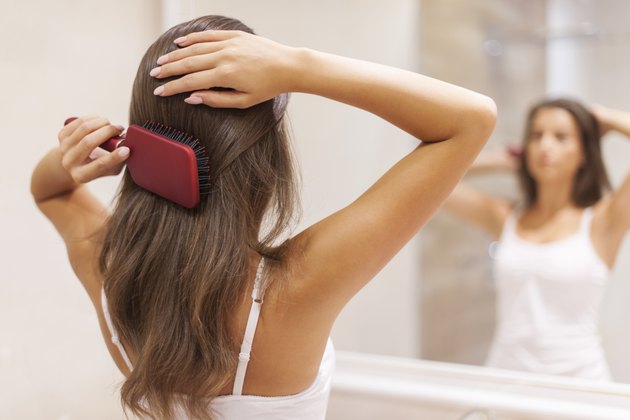 Step 1
Pour a small amount of oil in a microwave safe bowl. The amount dependd on length of your hair -- use more for longer hair. It does not take much to saturate hair.
Step 2
Heat for a few seconds until the oil is warm to the touch.
Step 3
Dip your fingers into the warm oil and apply it to your hair. Begin applying the oil 1 inch away from your scalp. Do not apply oil directly to the scalp, because it may clog pores.
Step 4
Run your fingers through your hair to the tips to move the oil and saturate the shafts.
Step 5
Place a plastic shower cap on your oiled hair. As an alternative, wrap your head with plastic wrap.
Step 6
Warm a towel in the clothes dryer. Wrap the warm towel around the plastic. Leave it on for 20 minutes; then wash your hair with shampoo and apply conditioner. Let your hair air dry, and then style normally.
Things You'll Need
Bowl

Microwave

Plastic shower cap or plastic wrap

Clothes dryer

Towel

Shampoo

Conditioner
Tip
Use jojoba oil daily by applying a small amount of oil to your fingers and running them through your dry hair.
Add 10 to 12 drops jojoba oil to your conditioner bottle to enhance shine.