Shea butter, a moisturizing oil extracted from the seeds of the African shea tree, adds the emollient to homemade and commercial cosmetics including lip balms, lotions and creams. Shea butter contains vitamins A and E, both of which soothe and moisturize chapped lips and dry skin. Combined with lanolin and olive oil, shea butter creates a healing lip balm that protects your lips from the elements. Brigitte Mars, author of "Beauty By Nature," recommends using shea butter lip balm during the winter months and whenever you're exposed to dry air for long periods.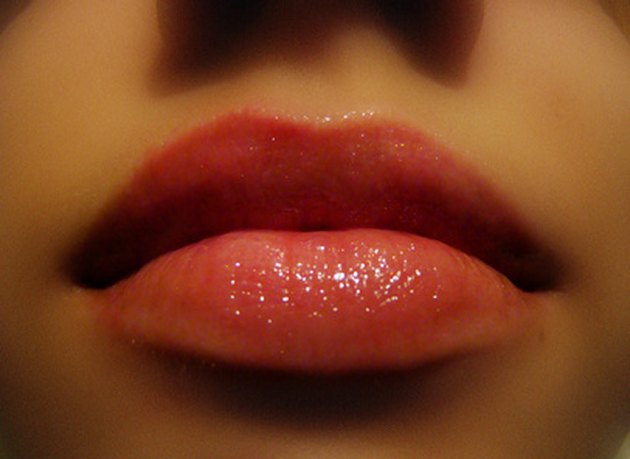 Step 1
Put the beeswax in a glass measuring cup, and place the cup inside a small saucepan. Fill the saucepan with enough water to reach about halfway up the sides of the cup.
Step 2
Place the saucepan over medium heat with the measuring cup inside, and bring the water to a gentle boil. Continue boiling it until the beeswax melts completely.
Step 3
Combine the shea butter and lanolin in another small saucepan. Warm it over medium-low heat until the ingredients melt, about 2 to 3 minutes, stirring constantly.
Step 4
Remove the shea butter and lanolin from the heat. Add the olive oil, and stir well to combine.
Step 5
Add the melted beeswax to the shea butter mixture in a slow, steady stream, stirring constantly. Continue stirring it until all ingredients are well-combined.
Step 6
Transfer the shea butter lip balm to a small plastic or metal lip balm container, and allow it to cool for at least four hours before securing the lids. Store the lip balm in a cool, dry place.
Things You'll Need
1 tablespoon grated beeswax or beeswax pearls

Glass measuring cup

Small saucepans

1 tablespoon shea butter

3/4 tablespoon lanolin

1 tablespoon olive oil

Lip balm container
Tip
Add color to your shea butter lip balm by adding 1/8 teaspoon of your favorite lipstick to the shea butter and lanolin mixture after heating it. Allow the lipstick to melt, and then proceed with the recipe. A single drop of food coloring also adds tint if necessary.
Look for lip balm containers in craft and hobby stores, or order them online. In some department stores, small cosmetic containers can be found in the travel or toiletries department.
Warning
Do not heat beeswax over a direct flame. Melt it in the top of a double boiler or in the microwave on low power for 1 to 2 minutes if you don't have a glass measuring cup.