Toenail fungus, also known as onychomycosis, is related to the fungus that causes ringworm, per the American Academy of Dermatology. The fungus is more difficult to get rid of than ringworm because it attacks the nail bed and is actually protected by the toenail. Bleach can kill the fungus but requires applying the bleach for several minutes, over several days. There are two ways to apply the bleach -- as a soak and in a paste form.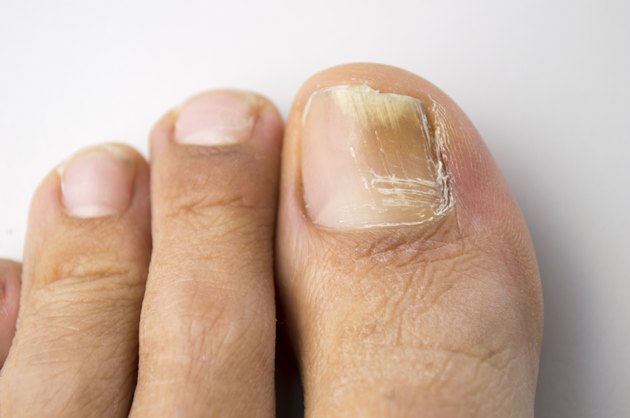 Warnings About Bleach
Bleach, also known as sodium hypochlorite, is a caustic substance and can irritate the skin, eyes and mucous membranes. Always dilute bleach with water before using it on your skin. Take care to keep the chemical away from your eyes and mucous membranes. If the fungus does not clear up within eight weeks, consult your physician.
Bleach Solution Soak
The bleach soak uses 1 tbsp. of bleach and a gallon of water in a bucket or similar receptacle. Per the Health Guidance website, you should trim the nail and even file or sand the nail down as close to the bed as possible to make the fungus more accessible. The site recommends soaking for 30 minutes daily either in one session or in two, or three separate sessions. The soak, according to Health Guidance, is the most gentle way to apply bleach and least likely to cause skin irritation. This method, however, may also take longer.
Bleach Solution Paste
The University of California, Los Angeles, publishes "Dr. Olsen's Ringworm and Onychomycosis Treatment," which takes a more aggressive approach. Dr. Olsen's treatment recommends applying petroleum jelly to the nail and adding one or two drops of undiluted bleach to the petroleum jelly. The bleach should sit for up to 15 minutes before rinsing off in the shower. After the shower, Dr. Olsen's treatment recommends sanding, or filing, the nail as close to the bed as possible.