Excess weight is a major health concern in North America, because weight problems are linked with complications like diabetes, heart disease, cancer, fatty liver, osteoarthritis, reproductive dysfunctions and psychological problems. It's human nature to look for a pill rather than work at losing weight the hard way, which has more people looking at natural supplements for weight management. Based on current research, science hasn't proven that evening primrose supplements will help you lose weight. Before taking evening primrose for weight loss, talk to your doctor.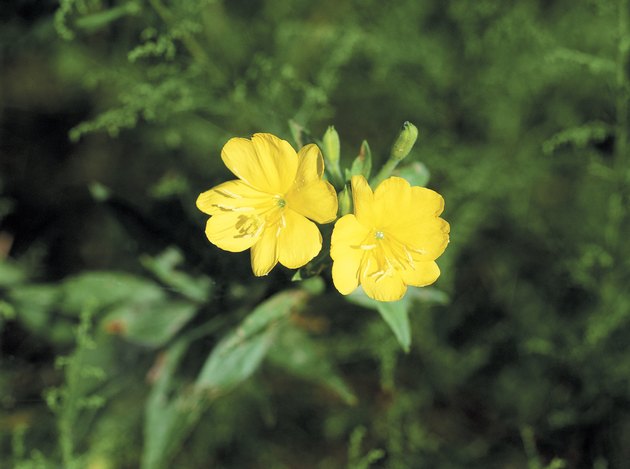 Identification
Evening primrose oil -- scientifically known as Oenothera biennis -- is derived from the seeds of the plant with the same name. The oil contains 70 percent linoleic acid (LA) nine percent gamma linoleic acid, or GLA, and smaller amounts of oleic, palmitic and stearic acids, according to Heather Boon, PhD, author of " 55 Most Common Medicinal Herbs: The Complete Natural Medicine Guide." LA and GLA belong to a group of essential fatty acids called omega 6 fatty acids; while omega-6 fatty acids may increase inflammation, GLA might decrease inflammation.
Research
Evening primrose oil is a well researched supplement being evaluated for a variety of conditions, from eczema and heart disease to cancer. In relation to obesity, Dr. Boon states that some research studies found evening primrose oil useful for managing obesity; however, other studies found no benefits of using this supplement to lose weight. The active ingredient in evening primrose oil possibly responsible for anti-obesity effects appears to be GLA. GLA was able to reduce weight regain in humans following major weight loss, according to a University of California, Davis study published in June 2007 issue of "The Journal of Nutrition". The study involved fifty obese women who consumed daily 890 mg of GLA during the study.
Side Effects & Drug Interactions
Side effects are rare and include mild digestive symptoms and headaches. Evening primrose oil or other omega-6 fatty acids should not be used if you suffer from seizure disorders or bleeding problems, since it could worsen these conditions. Evening primrose oil may interact with certain medications, such as non-inflammatory agents, blood thinners and drugs used in the treatment of schizophrenia. If you're pregnant, don't take any supplement without your doctor's approval.
Considerations
Consult a qualified healthcare professional to determine optimal dosage of evening primrose oil for your conditions. University of Maryland Medical Center suggests choosing a certified organic product that is also standardized and contains at least eight percent GLA. Evening primrose oil is available as an oil or in capsules. Studies have used doses between 2 to 8 grams of evening primrose oil.