You can often tell a cold sore is forming by a tingling feeling on the lip. A cold sore, or fever blister, is a cluster of tiny fluid-filled blisters. Caused by the herpes simplex 1 virus, a cold sore can be a painful nuisance with no cure. The virus lays dormant in nerve tissue until it reactivates, causing another sore to form in the same spot. Not everyone gets cold sores, but if you are going to get them MedlinePlus states it will usually happen before age 20. Peppermint oil can be used to take the sting out of a cold sore.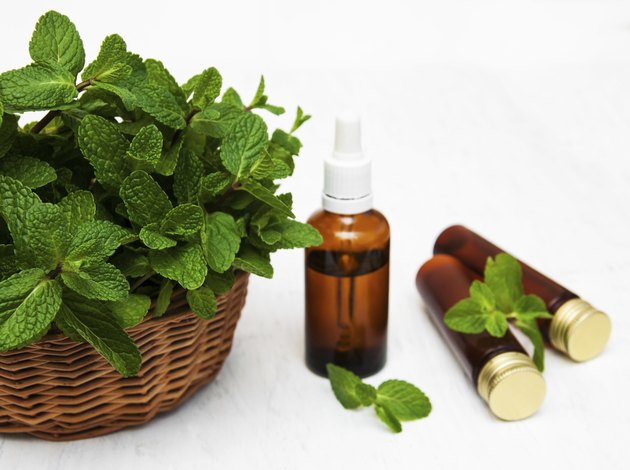 Step 1
Avoid getting or spreading the infection. Herpes simplex is a contagious virus. If you don't get cold sores, or if you get them and don't want to spread the infection, follow some simple rules. Don't drink from the same glass or use the same towels, eating utensils or razor as other people in your household. If you feel a cold sore coming on, don't kiss your loved ones, as this can also spread the infection to others.
Step 2
Keep the area clean. Wash gently using soap and water. Your doctor may advise using an antibacterial or antiseptic soap. Resist the urge to touch the cold sore because this can spread it to other areas or cause it to become infected. Don't pick at it or try to "pop" it for the same reasons. Although it takes one to two weeks, the cold sore will eventually scab over, dry up and go away.
Step 3
Use ice to alleviate pain before the sore scabs over. Do not apply any oils or creams to the cold sore at this stage unless instructed to do so by your doctor. Peppermint oil in particular is very irritating when applied to an open sore. MayoClinic.com advises using an over-the-counter pain reliever such as acetaminophen or ibuprofen if the cold sore is extremely painful.
Step 4
Once the cold sore scabs over, use peppermint oil to relieve pain and reduce sensitivity. Apply a drop or two of peppermint oil to a cotton-tipped swab and dab it on the cold sore. Peppermint leaves and stems contain the volatile oil menthol, which is used in herbal preparations. The medical journal "Phytomedicine" reports peppermint oil exhibits strong antiviral properties and is able to penetrate the skin effectively. Peppermint oil comes in topical and oral preparations. Make sure you use topical peppermint oil from a reputable manufacturer.
Step 5
Consult your doctor if your cold sores last more than two weeks or they erupt frequently. There are other treatments available, including prescription anti-viral medications.
Things You'll Need
Peppermint oil

Soap and water

Cotton-tipped swabs
Warning
Peppermint oil should not be used on the face of children under 8 years of age because it can cause life-threatening breathing problems, according to Drugs.com. Allergies to peppermint oil or menthol are possible; test a tiny patch of uninfected skin on the inside of your arm if you've never used any menthol-containing products before. Do not use peppermint oil anywhere near your eyes. Don not use peppermint oil if you are pregnant or breastfeeding.