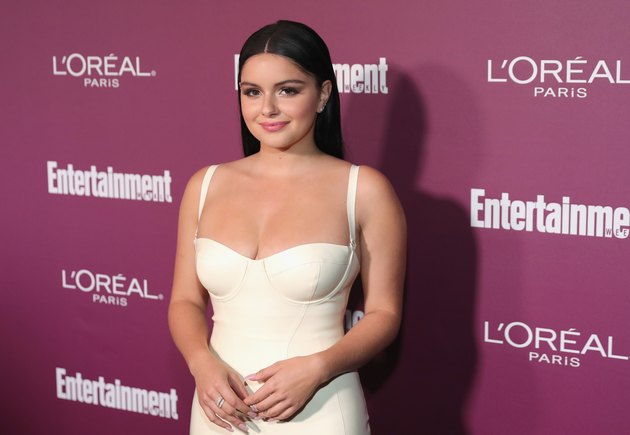 "Back to the gym with @mackfit," the starlet captioned her Instagram vid, adding a skull emoji at the end. In a pair of skintight black spandex shorts, a gray tank and a sleek blue sports bra, the 19-year-old slowly deadlifts some significant-looking weight. How's that for girl power?
According to People, she also shared two more of her workout moves on Instagram Stories: a set of crossover squats on a workout bench and sliding lunges.
If Ms. Winter's recent sweat-session video hasn't inspired you to get your bum off the couch and into the gym, check out two of the other moves she's posted, because they're just as inspiring.
Back in October, she showed off her seriously strong backside by doing glute kickbacks in absolutely perfect form.
And in August, she shared a glimpse of herself doing a forearm plank while her feet were sliding in and out on disks. Talk about a real strong woman!
Winter has been a pillar of body confidence in recent years, embracing her curves and showing them off without shame. When haters gotta hate, she's always clapped back in classic form, defending her body in all of its glory.
"If you want to wear a short skirt and show your body like I do, it doesn't mean you're a whore. And it doesn't mean you're not one," Winter told the Hollywood Reporter in September. "People call me stupid because I post photos of my butt when the real thing is, I love my butt. I love butts! Why stifle yourself because other people can't handle it?" You go, girl!
Winter went on to recount how people bullied her online when she was just a kid, making fun of her looks and her weight. She tried to change for a little while by losing some weight, dyeing her hair and changing the way she dressed, but claims she "got more hate by trying to change." So she just decided to do her own awesome thing, and it seems to be working for her.
Need some more guidance to get your booty in banging shape? Here are 17 exercises to shape and tone your booty, and here is a video of some booty-lifting exercises.
<p class="article-related-links">Want more healthy living info? Check out these LIVESTRONG articles: <br>
<a href="https://www.livestrong.com/slideshow/1011383-10-ways-house-may-making-fat/">11 Ways Your House May Be Making You Fat</a>
</p>
<p class="article-related-links"> 
<a href="https://www.livestrong.com/slideshow/1008806-10-not-common-tips-fend-off-cold-flu/">12 Not-So-Common Tips to Fend Off Cold and Flu</a>
</p>
<p class="article-related-links">
<a href="https://www.livestrong.com/article/1011777-50-things-throw-out-now-and-dispose-them/>50 Things to Throw Out Now (and How to Dispose of Them)</a>
</p>
What Do YOU Think?
Are you impressed by Ariel Winter's booty workouts? Do you think she's an inspiring, body-confident role model? What's your favorite butt-toning workout? Share your thoughts and suggestions in the comments below!