The Pilates Magic Circle is a flexible ring that provides resistance for muscle groups in the upper and lower body, and can even target the core. It's about a foot to 14 inches in diameter and has two padded handles, one on either side, so you can squeeze it between your thighs, calves ankles, palms or between your arm and torso. Magic Circles are lightweight and portable and can anchor a complete workout of resistance training.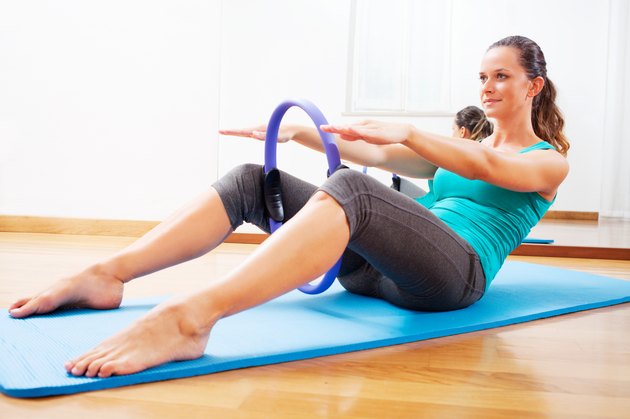 Target Upper Body
Magic Circles will isolate muscles but will also deliver a workout to secondary muscles -- such as core muscles during arm strengtheners. Stand tall, strongly engaging the core, and hold the circle at waist height between your palms. Press the circle in 10 times. Then squeeze it in as you move your extended arms over your head and back down to chest height to a slow count of 10. Repeat the exercise at chest height, shoulder height and overhead, remembering to keep your navel pulled in toward your spine.
Lower Body
For a twist on the Pilates Hundred, lie down, place one foot flat on the ground and rest the ankle of the other extended leg on the pad of the circle. As you raise your upper body and extend your arms, push your ankle down to compress the circle. Pump arms up and down for 10 full breaths as you maintain pressure on the circle. Change legs and repeat.