Like baseball games and bar-b-ques, pork plays a major role in the American diet and you can find some form of pork at any event. You encounter pork in the form of baked ham for Christmas dinner, as hot dogs at ball games, and as a standard breakfast meat. Some forms of pork are lean meat, while others are loaded with fat. For pork with high fat content, you may want to reduce the serving size, especially if you are trying to lose weight.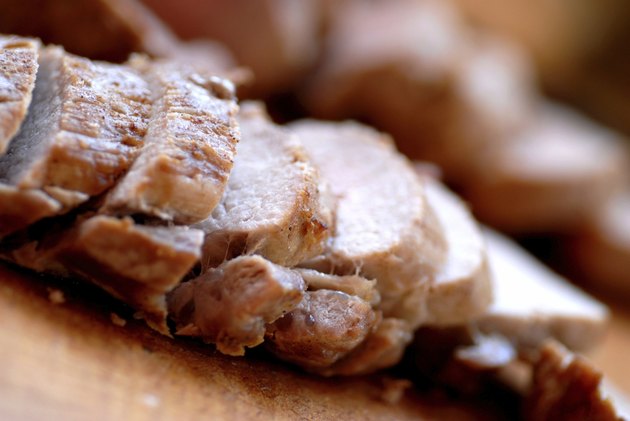 Pork Description
Pork is the generic term for meat that comes from hogs or pigs. You'll see pork as an entrée in the form of ham, pork chops and spareribs. Sliced luncheon meats like salami and bologna are also available. Pork is made into sausages of many kinds, including hot dogs. Bacon and shredded barbecue pork are still other examples of pork dishes.
Serving Size of Pork
According to the American Heart Association, most pork has a recommended serving size of 2 to 3 ounces, based on the USDA's Food Guide Pyramid. Persons such a diabetics who are on restricted diets may reduce this to a 1-ounce portion. Some forms of pork are sized by item. For example, two slices of Canadian bacon, three strips of regular bacon and one medium-sized pork chop are serving sizes.
Calories in Pork
The calories per serving of pork food items vary depending on the cut of meat and fat content. Lean pork such as boneless ham has 120 calories for a 3-ounce serving, according to Nutrient Facts. A canned ham has 190 calories for the same size serving. Nutrient Facts says a two-slice serving of Canadian bacon has 90 calories, while three strips of regular bacon have 110 calories.
Fat Content
The variability in the calorie count of pork is a result of differences in the fat content of various cuts of meat. According to Nutrient Facts, lean pork cuts from the leg or rump have as little as 12 grams fat per 3-ounce serving. A medium pork chop has 21 grams of fat. Lean ground pork has about 8 grams per ounce, or 24 grams for a 3-oz. serving.
Other Nutrients
Pork has about 21 grams of protein per 3-ounce serving. Like most meats, pork does not provide any carbohydrates or dietary fiber. Pork does not naturally have much sodium, or salt. However, processed pork products such as sausages and salami have sodium added. Pork cuts like loin and chops are good sources of some B vitamins, including riboflavin, vitamin B-6 and vitamin B-12.