The Pilates reformer facilitates hundreds of exercises for every part of the body. This complex machine consists of a gliding carriage, a set of springs and cable, a foot bar and a shoulder rest. Some companies make optional add-on devices, such as a jump board and a box. Since private Pilates reformer sessions are expensive, some people purchase reformers for home use.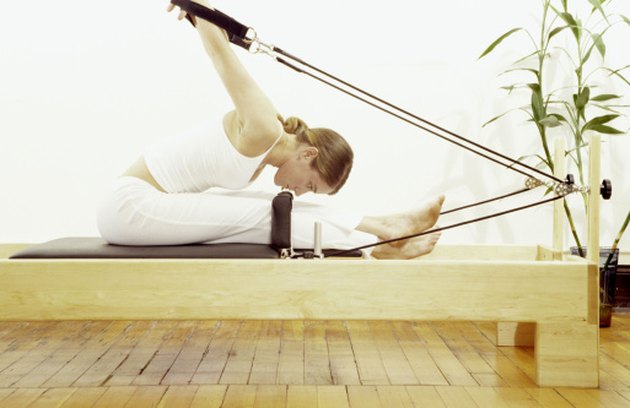 Selection Criteria
Space, weight, ease of assembly and price are primary reformer selection criteria, but quality and manufacturer expertise and support are even more important. Many "as seen on TV" fitness manufacturers are riding the current Pilates wave and making reformers for the home market. These machines are inexpensive, but the people who make them are rarely Pilates experts, and their warranty and service contracts are limited. Professional Pilates equipment manufacturers offer educational workshops and free, online access to articles and video podcasts.
Finding Discounts
Here's an insider's tip: Fitness conferences usually have trade shows through which manufacturers display their equipment and sell it at a discounted rate. Conference organizers often offer free or discounted tickets to the general public. Visit the Pilates manufacturer booths, and ask about equipment discounts. If you have a means of getting the reformer to your home, you'll get an even better deal for purchasing the demo models. The HealthandFitnessexpos.com website features a detailed fitness expo calendar.
Balanced Body
Balanced Body is a respected Pilates equipment manufacturer. Ken Endelman, the company's founder, began as a custom furniture designer. During the 1970s, a Hollywood Pilates instructor asked Endelman to redesign her reformer. Endelman consulted with the Pilates elders, who were original students of Joseph Pilates, and developed a cutting edge reformer design. Balanced Body now has an instructor certification program, and conducts educational workshops throughout the country. Their website features educational workshops for Pilates professionals and enthusiasts. Balanced Body designed the IQ Reformer for home use. It easily assembles, and shortens for storage. Choose between wheelbarrow wheels for rolling the reformer under the bed, or their "library" transport system which lets you store it upright in the closet. Its accompanying DVD explains the set-up process, and demonstrates a series of exercises.
Home-based Instructors
Home-based Pilates instructors may be tempted to save money by purchasing home reformers, but an article on the International Dance Exercise website explains why this is not an advisable practice. Home machines were not designed for frequent, multi-person use. Apparently, a hotel put home equipment in a hotel gym was held liable by injuries suffered by a guest. Stott Pilates, a certification organization and equipment manufacturer, offers the 100-lb. SPX Max Reformer. Originally designed for group reformer classes, its size makes it viable for small home-based Pilates studios.