With their stretchy fabric and the plethora of colors and patterns available, leggings have become a comfortable and stylish mainstay in fashion. However, these tight pieces can be intimidating, especially if you have big thighs. If your thighs are on the thicker side, don't let them steer you away from rocking leggings, as you can still enjoy this trend.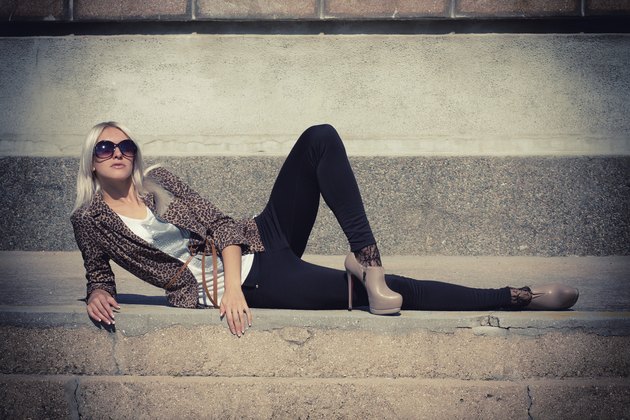 Step 1
Stick with dark, solid colors. Darker solids such as black, navy, darker blues and rich purples create a slimming effect. Bold, brighter colors and patterns will highlight a larger thigh area, so avoid leggings in those styles.
Step 2
Steer clear of sheer. Leggings can be deceptive, as some poorly made ones can actually be see-through. Test out leggings by checking the knee area and trying them on in good lighting. If you can see the tone of your flesh, keep searching. Cotton, poly-cotton blends and wool leggings will provide the best coverage.
Step 3
Pair your leggings with tunics, longer blouses and short dresses no longer than mid-thigh. These kinds of tops will provide additional coverage to your thigh area. Avoid short tops that stop at the waist, as they will only draw the eyes to your midsection and upper thighs.
Step 4
Stick with long leggings that go to the ankle. Leggings cropped above or at the calves tend to shorten the look of your legs, thus making for a wider appearance over their longer slimming counterparts.
Tip
Pair your leggings with some heels. Heels will dress up your look for a night out or even a casual dress day at work. Leggings or not, heels are an effective tool, in general, for slimming the look of your legs.