Everyone wants to have a shapely figure that fills out an outfit in all the right places; but for some body types, padding on the bottom does not come naturally. By making a few wardrobe changes, you can create the illusion of a curvier, fuller bottom. Whether you have an apple or a triangular body type, you can dress to hide a flat butt.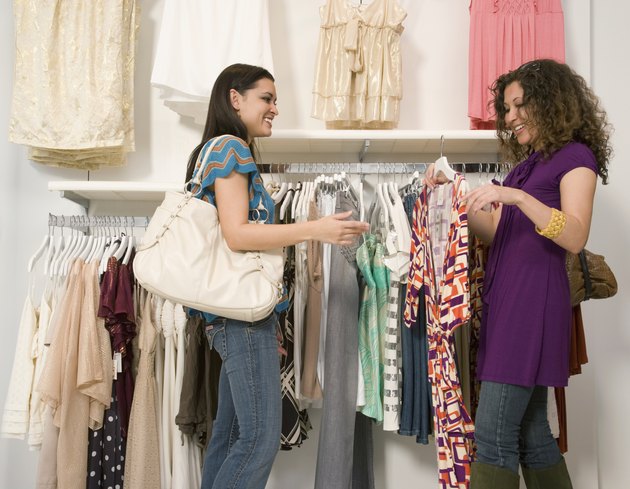 Dressing an Apple Shape
Step 1
Wear a pretty A-line dress with wedge shoes. An A-line dress flairs slightly at the waist and creates fullness around the lower torso. When you wear medium and high heels, it raises the bottom, making it appear lifted and fuller. Similarly, an empire or maxi dress to camouflage a flat bottom.
Step 2
Pair a tunic-length shirt with an asymmetrical skirt. Select a tunic that has a ruffled edge around the hem. This will add some fullness to the bottom.
Step 3
Select wide-leg jeans and pants. Buy denim with decorative back pockets and double stitching. Pay attention to where the pockets rest on your rear. The pockets should lay right over the center of your jeans.
Step 4
Choose V-neck and embellished tops. These take the eye away from your lower half and put the focus on your shoulders, neck and chest.
Dressing a Triangular Shape
Step 1
Wear skirts and dresses with full, ruffled skirts. Or, opt for a pencil skirt to give you a slim look while padding the rear.
Step 2
Wear skinny jeans with Lycra or spandex to add lift and to give the illusion of your hips and top half being in balance.
Step 3
Layer long shirts to cover your lower half. For example, wear a long, fitted tank top under a sheer, ethereal top or a fitted jacket.
Things You'll Need
A-line dress

Wedge shoes

Empire dress

Maxi dress

Tunic-length shirt

Asymmetrical skirt

Wide-leg jeans

Wide-leg pants

V-neck shirts

Embellished shirts

Dresses with full skirts

Ruffled skirts

Pencil skirt

Skinny jeans

Long tank top

Sheer tops
Tip
Draw attention to the top of the outfit with statement jewelry. If you're not self-conscious about your tummy, a super low-rise can add curves to a flat rear.