Triglycerides are a type of blood fat that the body uses for energy. Hypertriglyceridemia (high triglycerides) and hypercholesterolemia (high cholesterol) are collectively known as lipid disorders. Lipid disorders contribute to atherosclerosis, a condition in which arteries become narrow and hard because of a build-up of fat. Atherosclerosis increases the risk of stroke, heart attack and heart disease. Traditional treatments for lipid disorders involve medication, a healthy diet and exercise. Herbs may reduce triglycerides, but the success of many are based on anecdotal evidence. The University of Maryland Medical Center recommends consulting a physician before starting herbal therapy.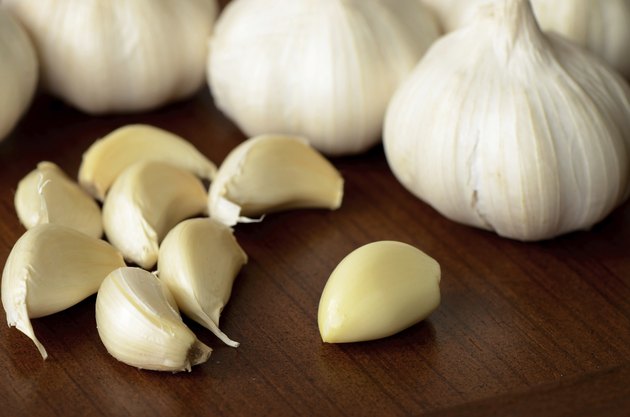 Guggul
Guggul is approved in India to treat lipid disorders, according to Peace Health, a nonprofit health-care system. Traditional ayurvedic medicine uses guggul to treat atherosclerosis. But according to the University of Maryland Medical Center and Peace Health, scientific evidence regarding guggul's ability to treat lipid disorders has been mixed and is not yet substantiated.
Garlic
Garlic has a history of use for high cholesterol and atherosclerosis prevention, but the University of Maryland Medical Center notes that recent studies have shown that garlic has minimal effect on high cholesterol and high triglycerides. Garlic can increase the risk of bleeding and is not for people on blood-thinning medications.
Achillea Wilhelmsii
Achillea wilhelmsii is a traditional Persian medicine. Researchers at the Isfahan Cardiovascular Research Center at Isfahan University of Medical Sciences in Iran published a study in 2000 in the journal Drugs Under Experimental and Clinical Research about the effects of achillea wilhelmsii on blood pressure and lipid disorders. Researchers found that triglycerides, cholesterol and blood pressure were significantly reduced with use of achillea wilhelmsii compared with a placebo. Those in the study reported no adverse side effects, although large-scale testing is needed.
Psyllium
Psyllium is a type of fiber. There is a lot of supporting research for the positive effects of psyllium on high cholesterol, but psyllium may also lower triglycerides. The University of Maryland Medical Center warns that psyllium can lower blood sugar, so diabetics should talk with a physician before taking psyllium.
Red Yeast Rice
Peace Health says red yeast rice is primarily used to treat high cholesterol, but it also appears to lower triglycerides significantly. Red yeast rice may work similarly to cholesterol-lowering drugs, so those on medication to lower cholesterol should consult a doctor before taking red yeast rice, according to the University of Maryland Medical Center.
Additional Herbs
Other herbs that may help reduce triglycerides include fenugreek and green tea. Peace Health says side effects of fenugreek, such as diarrhea and gas, appear to go away with continued use. Four or more cups a day of green tea may lower triglycerides. But the extent of green tea's effect on triglycerides is unknown, according to Peace Health.
Is This an Emergency?
If you are experiencing serious medical symptoms, seek emergency treatment immediately.