Running can provide a solid cardiovascular workout. It helps strengthen the heart and lungs, and it burns calories to support weight loss. However, it can also place stress and demands on the body. Runners may develop abdominal pain that can be related to muscular problems or digestive problems. Taking some precautions can alleviate abdominal pain from running.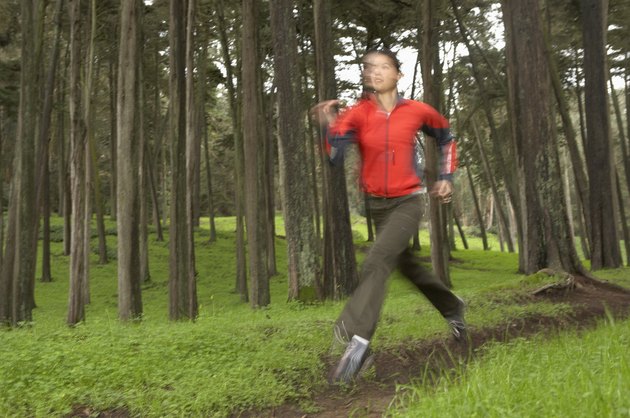 The abdominal muscles include the transversus abdominus, which is a deep layer of muscle in the front of the body; the rectus abdominus, which is more superficial and when toned creates the "six-pack ab" look; and the internal and external obliques. Diagrams on the IMAIOS website show that the abdominal cavity is underneath the diaphragm and houses many organs. The abdominal muscles work hard while running to maintain posture and balance. Given the complexity of the abdominal cavity, there are several situations that can contribute to pain in the abdominal area when running.
Features
The abdominal pain that occurs from running may be sharp and stabbing or it can feel more like cramps. For some runners, it occurs every time they run while others only experience this symptom occasionally. The pain may occur on its own or may be accompanied by belching, gas, upset stomach, vomiting, diarrhea and bloating, according to Rice University. Since these symptoms can be a sign of an underlying condition, abdominal pain should be evaluated by a physician so the correct treatment approach can be started.
Side Stitch
A common type of abdominal pain in runners is called a side stitch or side cramp. According to the National Institutes of Health, the reason side stitches occur is not well understood. It tends to cause pain that is sharp and localized to one area of the abdominal cavity. While there are many theories about what causes side stitches, it may be due to irritation of the parietal peritoneum, which is a membrane that lines the abdominal and pelvic cavities. Side stitch pain may be caused when there is friction against this membrane. This symptom may be preventable by avoiding large or heavy meals and drinks that contain more than 8 percent salt or electrolytes before running, which both can bloat the abdominal area.
Dehydration and Diet
The Rice University states that dehydration is a major contributor to abdominal pain and cramps in runners. Staying hydrated is critical during long runs or when running in hot and humid weather when the body loses fluid quickly. In addition, runners who consume meals that are high in fat, fiber and protein or large amounts of carbohydrates 30 minutes before a race appear to have more cramps and abdominal pain. Those who focused on smaller carbohydrate meals combined with a high-carb drink had fewer problems. Since everyone is different, it may take a trial-and-error period to find the right diet to support running.
Deep Breathing
The body needs a lot of oxygen to sustain running. However, if running intensity exceeds personal physical capacity, the rate of breathing can speed up. As breathing becomes faster and more shallow, the diaphragm muscle may not move as it should, which can interfere with lung expansion. This means less blood and oxygen are circulating through the body, which can lead to stomach muscle cramps. If this occurs, the Military.com website recommends slowing down and focusing on taking deep diaphragmatic breaths. With the inhalation, the stomach should move out, which allows the diaphragm muscle to drop and the lungs to expand. On the exhalation, the stomach muscles should move inward to make the diaphragm move up so it can compress the lungs and help the air to be expelled. At first, training intensity may need to be lower to allow time to learn correct breathing. Then gradually increase the intensity only to a level where diaphragmatic breathing can be continued.