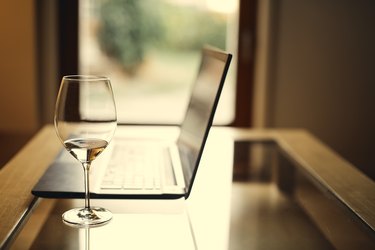 Cooped up at home, feeling lonely and stressed, many Americans began drinking more during the COVID-19 pandemic. A survey of around 1,500 adults revealed the frequency of alcohol consumption increased 14 percent, compared to 2019, per a September 2020 research letter in ‌JAMA Network Open‌.
Drinking to excess isn't good for a person's health: It can lead to emotional and physical consequences, including cardiovascular damage, increased risk of cancer and changes in a person's mood and behavior, according to the National Institute on Alcohol Abuse and Alcoholism (NIAAA).
AUD is an umbrella diagnosis that encompasses alcohol dependence and alcohol abuse. In the United States, about 15 million people have AUD, according to the NIAAA.
An increase in new diagnoses of AUD due to social distancing is "probable," per a July 2020 editorial in the ‌Lancet Gastroenterology and Hepatology‌, noting that an increase in people's drinking patterns is a "hint at the emergence of a subgroup of drinkers at risk of establishing potentially dangerous patterns of alcohol consumption during lockdown."
If you're concerned that a friend or family member has an unhealthy relationship with alcohol and may have AUD, there are ways you can offer support. Here's what you need to know.
Common Symptoms of AUD
Knowing if a loved one's drinking habits indicate AUD can be tricky, since the disorder can range from mild to moderate to severe, according to the Mayo Clinic. And social distancing, which may mean you see some loved ones only through a screen, compounds that difficulty.
Common symptoms, per the Mayo Clinic, include:
An inability to limit the amount of alcohol consumed
Spending a lot of time drinking
Alcohol cravings
Withdrawal symptoms
An inability to keep up with work, social and family obligations
Frequent unsuccessful attempts to quit or control the alcohol intake
How to Help Your Loved One
If you suspect that someone you care about may have AUD, you can't force the person to get help. And confrontations involving harsh words or raised voices are not a successful tactic.
Still, there are things you can do to encourage people with AUD to seek the support they need. Try these tactics:
The first thing you should do is learn from others who have been down this path before you, says Sanam Hafeez, PsyD, a New York City neuropsychologist and faculty member of Columbia University.
Try going to a local Al-Anon meeting — a support group specifically for friends and families of people with alcoholism — for help and resources, Hafeez recommends. In-person meetings as well as phone or video meetings are available, per Al-Anon.
Another option is to reach out to a professional interventionist, Hafeez says. These individuals are trained to facilitate the conversation and aftercare, as well as offer general support and eduction, according to the Association of Intervention Specialists.
2. Let the Individual Take Ownership
Know that the decision to get help ultimately has to come from the person with the disease. The most effective result will come with that individual taking ownership to guide their own treatment, says Patrick Fehling, MD, a psychiatrist at UCHealth Center for Dependency, Addiction and Rehabilitation.
He suggests that you help educate them on what treatment plans are available and let the individual know that you support them seeking treatment.
3. Communicate That You Care
"Talk to the person and tell them that you are concerned about them, that you are concerned because you care about them and that you would like them to get help," says Keith Heinzerling, MD, an internist and addiction medicine specialist at Providence Saint John's Health Center in Santa Monica.
"Let them know that you are there to assist them in getting help."
"Try to avoid confrontation as this usually just deters the person from agreeing to get help," Dr. Heinzerling adds. "If you scare them off before the first step, then our chance is lost."
He suggests that if you're unsure on how to best approach this, get support and guidance from a treatment facility or provider.
5. Focus on the First Visit
Dr. Heinzerling's clinic focuses on simply getting a potential patient in for just an initial first visit, which they stress is only an assessment and a chance for them to meet the staff and see what they can offer.
Focusing on just the first visit also helps circumvent the fear that many people with AUD have about making a long-term commitment to giving up alcohol, primarily because alcohol is often a safety blanket and defense mechanism.
"Keeping the initial threshold to seeking help low may be more successful," he says. "If a patient comes to me once, I have a chance to build rapport and try to convince them to work with us."
Overall, Dr. Fehling recommends that any efforts you make to try to convince someone you love to seek help should come from a place of caring.
"Try to emphasize that treatment is effective and caring," he says. "The goal is really to get the person to engage with professionals, avoid power struggles and hold some accountability for the process."
Is this an emergency? If you are experiencing serious medical symptoms, please see the National Library of Medicine's list of signs you need emergency medical attention or call 911.