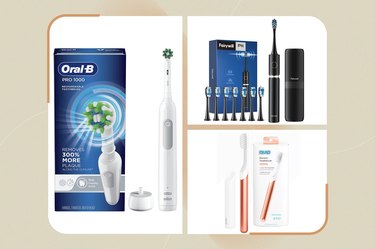 Brushing your teeth might be one of the more mundane activities in your routine, but it's an incredibly important one. Doing it daily helps remove plaque, prevent cavities and ward off gum disease, and that lowers your risk of conditions like diabetes and heart disease, per the American Dental Association (ADA).
With that in mind, here are the best electric toothbrushes to buy.
The 10 Best Electric Toothbrushes
We checked in with dentists to get their take on the most important criteria to consider when selecting an electric toothbrush, and evaluated options based on the following factors:
Bristle design
Charging method
Timer
Find more information on how we choose and cover products here.
1. Oral-B iO Electric Toothbrush
Pros
Removes plaque
Whitens your teeth
Comes with seven cleaning modes
Three-hour fast charger
Cons
Battery life isn't very long, per some reviewers
Pricey
This electric toothbrush is a fan-favorite among the dentists we interviewed, mainly thanks to its innovative features, including a built-in LCD screen on the handle that allows you to fully customize your brushing experience.
It has seven smart modes to choose from, including Daily, Sensitive and Whitening, and a sensor light that turns red if you brush too hard or aggressively. This sensor light can be particularly beneficial in preventing gum tissue recession, notes Tina Saw, DDS, general and cosmetic dentist with Elevated Smiles in Carlsbad, California, and founder and CEO of Oral Genome.
Other features include a two-minute timer, so you know how long you should be brushing for, as well as a charging travel case so you can stay charged on-the-go.
"I was definitely wowed when I first used it, as my teeth felt squeaky clean like I had just gotten them professionally cleaned," Dr. Saw says.
2. Spinbrush Pro Whiten Battery Toothbrush
Pros
Comes with whitening feature
Dual-action brush
Easy on/off switch
Budget-friendly
Lightweight
Cons
Brushing is not as powerful as other brands, according to reviewers
This battery-operated toothbrush might have fewer fancy features than others on the market, but it offers a lot for a budget-friendly cost. It comes with a dual action brush head and a rotating whitening cup to help your teether feel cleaner and look whiter. The soft switch on/off button makes it easy to use, and the color fade bristles remind you when it's time to get a new brush (every three months).
Because this brush is battery-powered, you don't need to charge it. Just use it up until the battery has died and then replace the battery itself.
3. Quip Electric Toothbrush
Pros
Portable
Comes with a travel container
Gentle vibrations
Quiet
Cons
Brush heads may be tricky to change, according to some reviewers
Not as sturdy as other electric toothbrushes
With a slim, sleek design, this electric toothbrush gives you the best of both worlds: the benefits of an electric toothbrush with the appearance of a normal, bristle-brush toothbrush. It has a slim handle, soft-bristle head and comes in four colors: silver, slate, copper and gold. It's also available with a plastic brush handle in either green or blue.
This brush is operated via replaceable batteries and comes with a sleek travel container that can easily be thrown into your luggage.
The vibrations are much more gentle than some of the more high-tech electric toothbrushes, which users with sensitive teeth will appreciate. It's also quieter, which is another perk for those with room- or bedmates.
Last, but certainly not least, you can opt into the Quip subscription service, which sends brush head replacements every three months ($5 each), or purchase products as you wish.
4. Burst Sonic Toothbrush
Pros
Comes with a whitening and a massage mode
Comes with short and long bristles
Long battery life
Cons
Only comes with a USB charger, not an outlet charger
This electric toothbrush puts in work, removing up to 10 times more plaque than a standard toothbrush without being too aggressive. This is why it can be particularly beneficial for those with sensitive teeth and gums. It even has a mode entirely dedicated to sensitive teeth (along with two other modes: whiten and massage).
Sharon Huang, DDS, cosmetic dentist at Les Belles in Manhattan, loves that this brush is compact and features both long and short bristles, which helps users clean hard-to-reach places more efficiently.
"The brush operates at 33,000 sonic vibrations per minute, so it has a powerful motor that cleans well, yet is gentle enough to not strip the gum or teeth," Dr. Huang says.
Another perk: This brush has one of the longest battery lives, lasting an entire month without needing a recharge. Burst also offers a lifetime guarantee to replace the brush if it ever has a problem.
5. PRO-SYS VarioSonic Electric Toothbrush
Pros
Comes with five precision brush heads
Gets rid of plaque
One-year warranty
Cons
Some reviewers say the bristles are too hard
Reviewers say the battery life can be short
This toothbrush comes equipped with five precision brush heads that are scientifically designed to get rid of plaque buildup that can lead to gum disease, making it a favorite among dentists. It offers five levels of cleaning power as well as five unique brush heads, including a Feather Soft, Ultra Soft, Normal Soft, Extra Soft and Hybrid Soft.
The one-year warranty is another plus.
6. Oral-B Kids Electric Toothbrush
Pros
Made with soft bristles
Comes with a gentle mode
Comes with a timer
Rechargeable handle
Cons
Some reviewers say the toothbrush is too loud
Not a long battery life
Getting your kid to brush their teeth is probably a struggle, but an enticing toothbrush could help. This Frozen-themed brush from Oral-B fits the bill, and it has soft bristles for kids with sensitive teeth along with a special gentle mode that little mouths will appreciate.
Kids will also get a kick out of the Disney Magic Timer app that lets them brush along with their favorite characters for the recommended amount of time.
This toothbrush comes with a rechargeable handle, charger, brush head and four fun stickers that kids can place anywhere, be it the toothbrush itself or somewhere else in the bathroom.
7. Philips Sonicare ProtectiveClean 4100
Pros
Stop after two minutes so you brush the right amount of time
Easy to clean
Slowly works up in intensity, for sensitive teeth
Cons
Has a short lifespan compared to other brushes, per some reviewers
When it comes to battery-operated electric toothbrushes, dentist April Patterson, DDS, owner of Dr. Patty Dental Boutique and Spa in Fort Lauderdale and Dr. Patty-MIAMI, says she only ever recommends the Philips Sonicare ProtectiveClean 4100.
"The big difference that I appreciate when it comes to this toothbrush is that it fully stops after two minutes of brushing so you're not causing unnecessary trauma to the gums," she says. "It is also very easy to wipe clean thanks to fewer ridges."
It's a good choice for people with sensitive teeth, as its EasyStart mode slowly works its way up in intensity over time so your transition from manual toothbrush is as seamless as possible.
8. Oral-B Pro 1000 Power Rechargeable Electric Toothbrush
Pros
Removes 300 percent more plaque than a regular toothbrush
Comes with a pressure sensor
Two-minute timer
Affordable brush heads
Cons
It can be a little loud
Reviewers say it can be slippery, and the on/off button hard to press
One of the top-recommended electric toothbrushes from the dentists we interviewed, the Oral-B Pro 1000 oscillates and pulsates in a way that offers full, three-dimensional cleaning, removing up to 300 percent more plaque than a regular manual toothbrush.
If you brush too hard, the pressure sensor stops the vibrations so you can adjust accordingly. It also has a built-in two-minute timer to remind you of how long you should be brushing for.
Another perk: It offers access to one of the most extensive and affordable lines of replaceable toothbrush heads available — for the lowest price, notes Dr. Patterson. "It comes with a minimal charging pedestal that simply requires dropping the brush onto a peg," she says. "Fully charged, it lasts for at least a week."
The one drawback? "It is a little loud," Dr. Patterson says.
Pros
Powerful sonic energy
Connects to an app to track brushing habits
Glass charging station
Travel case
Cons
Pricey compared to other options
If you're looking for an electric toothbrush that not only offers powerful sonic energy, but also serious style and design variety, the Sonicare Diamond Clean is a great choice.
It comes in three different "skins," including black, grey and pink, and it's also tech-savvy: You can download the Philips Sonicare app to your smartphone to track sensory coverage so you're able to see exactly where you are bushing (and what you missed), notes Dr. Huang. The app also gives you feedback on your brushing technique.
Along with its eye-catching design, this brush comes with a stylish glass charging station and travel case.
10. Fairywill Electric Toothbrush P11 with Travel Case
Pros
Two-minute timer that pauses every 30 seconds to ensure an all-over clean
Easily chargeable
Waterproof
Cons
Not widely available online and in stores
If you're gifting an electric toothbrush, you want it to make the person's life as easy and enjoyable as possible. This brush has it all — five modes to choose from, a 2-minute timer that pauses in four parts (every 30 seconds) so you know when to move from bottom to top and side to side, and it is also easily chargeable, even when on-the-go, thanks to its USB compatibility.
It's also waterproof, so it's great for families with young children who might easily knock things over around the sink, and it comes with different colored brush heads so it can be used interchangeably by more than one household member.
What to Look for in an Electric Toothbrush
Beyond how they look, which is a matter of personal preference, electric toothbrushes have a few key features you'll want to keep in mind:
Bristle design is a personal choice that can make a difference in your brushing experience, Dr. Huang says.
"The bristle design includes different levels of bristle technology and degree of softness," she explains.
Always opt for a soft bristle, especially if you have sensitive teeth or gum recession, and look for a multi-level bristle (a mix of long and short bristles), because this design is superior when it comes to plaque removal, Dr. Huang says.
The ADA recommends brushing for two minutes at a time. Any shorter than that, and you may not remove all the plaque on your pearly whites; any longer, and you might risk gum recession.
To help you stay on track, look for a brush with a built-in timer that alerts you when you've hit the two-minute mark.
Some electric toothbrushes run on batteries (that need to be replaced every few months), while others plug into an outlet or charge using a USB. None of these options are superior to the others, but keep in mind what works best for your lifestyle. For example, if you travel often, you may prefer a battery-operated brush that's easy to toss in an overnight bag.
Is this an emergency? If you are experiencing serious medical symptoms, please see the National Library of Medicine's list of signs you need emergency medical attention or call 911.