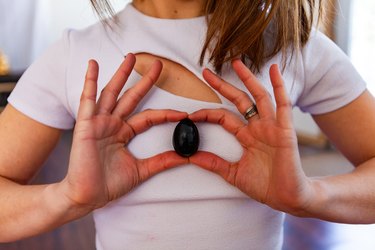 Odds are, every vagina-owner on the planet knows that douching can be damaging down under. But simply scroll through social media, and you'll come across an astounding number of vaginal care products and practices with purported claims like freshening your scent or boosting fertility, which you might be tempted to try. But are they safe?
Here, we spoke with gynecologists about things you should ​never​ put inside your private parts, plus what stuff is safe to insert (spoiler alert: the list is short).
First: Why Are People Putting Things Into Their Vaginas?
"Most of these trends have to do with the constant messaging that vaginas are dirty and need to be super clean and smell like a bouquet of roses," says Staci Tanouye, MD, a board-certified gynecologist.
"This messaging comes from all angles — marketing of certain products, underlying shame surrounding genitals (especially vulvas and vaginas), the taboo of periods and sex in general — and, of course, much of this stems from a foundation of misogyny," Dr. Tanouye explains.
But your vagina isn't inherently dirty and doesn't need to be deep-cleaned. "The vagina is really good at taking care of itself," says Allison K. Rodgers, MD, a board certified ob-gyn, reproductive endocrinologist and director of education at the Fertility Centers of Illinois.
"In fact, it cleans itself, which is why you have normal discharge," Dr. Rodgers says.
Indeed, acidic vaginal secretions help the vagina maintain its microbiome (i.e., a delicate balance of good bacteria) by warding off bad bacteria and other harmful parasites, Dr. Rodgers explains. Plus, your labia and pubic hair keep unwanted stuff out as well, she adds.
Tip
You don't even need to scrub your vulva (the outer part of the vagina) with soap to keep it clean — rinsing with warm water will do.
And the other big reason that vagina-owners are sticking stuff up their nether parts? Many people prefer home remedies, opting for DIY treatments instead of seeking help from their doctors.
"There is a belief that 'natural' is somehow healthier, which is often not true at all," Dr. Tanouye says. "'Natural' or 'organic' does not equate to better when it comes to genital hygiene and can actually make things worse much of the time."
And anything (natural or not) can change the pH of the vagina — especially the stuff you put inside it — which can invite pathologic or harmful bacteria to grow (or irritate and damage the delicate vaginal mucosa), Dr. Rodgers says.
Tip
If you're experiencing an unpleasant vaginal odor or unusual discharge (that's yellow, green or bloody) and suspect you have an infection, it's best to see your doctor right away, Dr. Tanouye says.
7 Things You Should Never Insert into Your Vagina
This is a prime example of how natural is not always better, Dr. Tanouye says.
Indeed, "essential oils can cause a 'burning' of the vaginal mucosa," Dr. Rodgers says.
That's because "most essential oils are topical skin irritants and can lead to contact dermatitis [i.e., a skin irritation] to the vulva or vagina," Dr. Tanouye explains. "In addition, concentrated oils (particularly tea tree oil) can also be very caustic if not diluted properly," she adds.
If you treasure your vaginal health, keep herbal pearls (also called yoni pearls) out of your oyster shell. In short: "Stay far away" from these products, Dr. Tanouye says.
ICYDK, herbal pearls are small, cloth-wrapped balls containing herbs that are marketed as a detox for your vagina and uterus.
"These can be incredibly harmful and do none of the things they claim," Dr. Tanouye says. "They are often a concoction of things that work to increase exfoliation of the vaginal mucosa, which can lead to increased irritation" or even chemical-like burn reactions, she explains.
Making matters worse, the companies who make yoni pearls recommend leaving them inside your vagina for 24 to72 hours, but this can contribute to a buildup of bad bacteria and potentially develop into Toxic Shock Syndrome (TSS), a rare but serious infection, according to the Mount Sinai Adolescent Health Center.
What's more, these herbal cocktails — which aren't FDA-regulated (meaning there's no guarantee what's in them, per the Mount Sinai Adolescent Health Center) — can be even more harmful if they're absorbed through the vaginal mucosa into your bloodstream, Dr. Rodgers says.
But these myths aren't true. In fact, inserting foods into your vagina can make a bad situation worse. For one, "the sugars in yogurt will increase the growth of abnormal bacteria," Dr. Rodgers says.
And garlic, which is caustic, can irritate your vagina and leave you in a world of pain, Dr. Tanouye says.
The takeaway: Keep these foods on your plate and out of your private parts.
4. Perfumes or Scented Products
Using perfumes or perfumed products can produce a plethora of vaginal problems.
"Fragrance of any kind is a topical irritant, which can lead to contact dermatitis" or allergic reactions, Dr. Tanouye says. Think: an itchy, red rash.
Dr. Rodgers agrees: Not only do perfumed products contain ingredients that may be harmful to your hoo-ha, but trying to mask your vagina's natural scent is totally unnecessary. Read our lips: Your vagina is supposed to smell like a vagina.
Dr. Tanouye puts it like this: "Vulvas should smell like vulvas, not roses."
And again, if you're concerned about an abnormal vaginal odor, discuss it with your doctor, who can properly assess you.
A viral sensation on social media, vaginal melts are suppositories that supposedly transform the taste and scent of your vagina into fruity flavors like strawberry or peach.
Not only can vaginal melts mess with your vagina by causing potential irritation, they can also negatively affect your perception of your private parts.
"Vaginas should smell and taste like vaginas, not coconuts, and the idea that products exist to make them taste better during sex can give a distorted view of what is normal and healthy and can greatly impact self-image," Dr. Tanouye says.
Many people are using jade eggs (egg-shaped jade or quartz stones) as vaginal weights to increase vaginal tone, with the goal of having tighter muscles (and/or stronger orgasms).
But inserting these stones into your vagina isn't serving you.
First, "jade is porous, which can harbor bacteria," Dr. Tanouye says. Which is a big no-no, because an overgrowth of bad bacteria can lead to a host of infections, including TSS.
Plus, "increasing vaginal tone is not always a good thing, as it can lead to chronic pelvic pain and an inability to relax the pelvic floor muscles appropriately," Dr. Tanouye explains.
Vaginal steaming has ​gained steam​ on social media lately. The practice — which involves sitting over a steaming pot of herb-infused water — is supposed to produce perks, from increasing fertility to easing menstrual symptoms.
But Dr. Rodgers only has one word for v-steaming: "Ouch!" Not only can hot steam scorch your nether regions, but it can also create a breeding ground for bad bacteria to grow, she adds.
So, stick to steaming your vegetables and leave your vagina out of the mix.
So, What's Safe to Insert Into Your Vagina?
Now that you know what ​not​ to put inside your private bits, here's a list of things that are safe for your vagina, per Drs. Tanouye and Rodgers:
Period products like tampons, menstrual cups and discs (steer clear of scented products, though)
Sex toys (as long as they are clean)
Condoms (as long as you aren't allergic)
Probiotics (only when recommended/as directed by your doctor)
Is this an emergency? If you are experiencing serious medical symptoms, please see the National Library of Medicine's list of signs you need emergency medical attention or call 911.