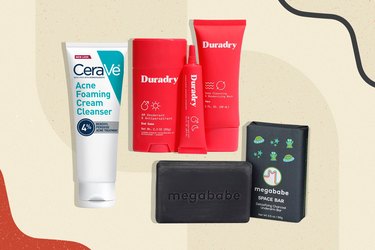 Body odor is part of being human. But just because something is natural doesn't mean we have to deal with it. Luckily, the odor-fighting industry is mighty and large, including the options for odor-fighting soaps.
Not just any soap has the right ingredients to fight BO in an effective way. The best soaps for body odor are deodorant soaps, which are different from regular soaps because they contain antibacterial ingredients to reduce the amount of bacteria on the skin that may contribute to body odor, explains Brendan Camp, MD, a Manhattan-based dermatologist at MDCS Dermatology.
Of course, you can't expect any soap — even a deodorant soap — to eliminate your body odor entirely. Throughout the day, sweat buildup and bacteria will continue to develop on the skin, notes Marisa Garshick, MD, dermatologist at Medical Dermatology & Cosmetic Surgery in New York.
"When the sweat and bacteria is washed away, it can help to reduce body odor temporarily, but the odor can always recur," she says.
The Best Soaps for Body Odor
We chatted with dermatologists to better understand the benefits of using a deodorant soap versus a regular soap and how to find the right soap for body odor. We chose our top picks based on their recommendation and the following criteria:
Effective ingredients
Skin sensitivity
Fragrance
Hydrating ability
Learn more about how we choose and cover products here.
Warning
Unpleasant body odor that doesn't go away after using odor-fighting products is worth a call to your doctor, as it may be a sign of an underlying disease.
This three-step system includes an antiperspirant gel you apply at night, a deodorizing body wash and a deodorant/antiperspirant stick you apply in the morning. All together, it addresses sweat and odor problems throughout the day, so you're not having to worry about reapplying deodorant.
Both the p.m. antiperspirant gel and a.m. antiperspirant stick contain aluminum as the active ingredient, while the body wash contains moisturizing cleansers along with bergamot, which helps control odor.
"The p.m. formula works while you sleep to minimize the sweat in your underarms, while the a.m. product will protect you throughout the day," says Deanne Mraz Robinson, MD, a dermatologist with Modern Dermatology of Connecticut. "The body wash deodorizes your skin, reducing surface bacteria and priming the skin for the a.m. and p.m. products to be applied."
If you opt for the subscription service, you'll receive new products in the mail like clockwork.
2. CeraVe Acne Foaming Cream Cleanser
While this cream cleanser is designed for the face, Dr. Garshick recommends it for use on the whole body, especially if you're looking to simultaneously target odor and acne.
Its main ingredient, benzoyl peroxide, is designed to help with acne, but it may also help with body odor as it has antibacterial properties, making it one of the best antibacterial body washes, she says.
"It is helpful that this cleanser also contains ceramides, hyaluronic acid and niacinamide, so it won't leave the skin feeling irritated or dry," she adds.
3. Megababe Space Bar Underarm Soap
Pros
Antimicrobial with tea tree oil
Exfoliating
Washes away odor-causing bacteria
Good for sensitive skin
Vegan and cruelty-free
Cons
Not as long-lasting in terms of fighting odor
Could potentially cause an allergic skin reaction
As the name suggests, this soap is meant to be used in your underarm area to help keep odor at bay. It contains activated charcoal, which helps draw away impurities, and also features the antimicrobial properties of tea tree oil. This makes it one of the best soaps for underarm odor.
It also contains a gentle dose of glycolic acid, which helps to lightly exfoliate the skin, notes Dr. Robinson. "The soap absorbs and washes away odor-causing bacterias and does so rather gently, making it a great choice for sensitive skin," she says.
Keep in mind that some people may have allergies to tea tree oil; stop using this product if you notice any adverse skin reactions like a rash.
4. Mirai CLINICAL Purifying and Deodorizing Soap Bar
Pros
Good for aging skin
Natural ingredients
Clinically tested
Eliminates nonenal, armpit and foot odors
Cons
Can cause dryness, according to some reviewers
As you age, your skin's fatty acids can mix with the air and produce a compound called 2-nonenal. This compound can smell grassy or greasy, and is often hard to prevent and treat, per a June 2020 study in ‌Molecular Biotechnology.‌
This bar soap from Mirai Clinical is specifically formulated to neutralize nonenals, leaving you odor-free. It's made with persimmon and green tea extract, making it a great natural soap for body odor. Both ingredients also contain antioxidants to help moisturize thin, aging skin.
Plus, you can use it all over your body — to help reduce foot, armpit and groin odor.
5. Dove Men+Care Body Wash
Pros
Antibacterial
Locks in natural moisture
Budget-friendly (when not bought in bulk)
Cons
Contains a cologne fragrance (which can be too strong for some)
If you're looking for a body wash that's antibacterial, here's one Dr. Garshick recommends. "This body wash helps to eliminate bacteria without drying out the skin and can be used on the face, body and hands," she says. "It is a light formulation that is also formulated with MicroMoisture technology to help lock in natural moisture."
It does have a strong scent that's akin to cologne or perfume, so be sure that's what you're looking for if you go this route.
A Note on Language
At LIVESTRONG.com, we strive to use gender-neutral language. Manufacturers often use gendered terms when marketing their products, but there's typically no real difference between body washes "for men" or "for women," or for "male" or "female" body odor other than scent, which comes down to personal preference.
6. Lume Unscented Soap Bar
Pros
Unscented
Hypoallergenic
Free of parabens, phthalates and dyes
Cruelty-free
Cons
Doesn't lather as much as other soaps, according to reviewers
Sometimes, body odor in relation to your private parts is unavoidable, but it is possible to reduce. A bar soap like this one from Lume is a great choice, as it's free of fragrances and dyes.
While it doesn't lather as much as other bar soaps (according to some Amazon reviewers), the smooth feeling it leaves behind will keep you fresh and clean.
Plus: Lume products are ob-gyn-designed and approved, meaning vaginal odor and health is top priority.
Pros
Antimicrobial
Can be used on your whole body
Good for body acne, jock itch and athlete's foot
Cons
Pricier than other options
Although pricey, and not specifically marketed as "deodorizing," Dr. Robinson points out that this soap has excellent antimicrobial benefits that can benefit body and foot odor.
"In addition to improving body odor, the sport wash is great for addressing all sorts of bacteria-linked issues, including folliculitis, body acne, jock itch and athlete's foot," she says. "Lathering for one to two minutes each shower will remove dirt, sweat and oil to decongest pores and reduce the chances of odor-causing bacteria to thrive."
What to Look for in a Soap for Body Odor
Here are some features to look for when shopping for a body wash for body odor.
Dr. Robinson recommends looking for a soap that contains antimicrobial ingredients, which may be chemical compounds like benzalkonium chloride or benzoyl peroxide or botanical ones like tea tree oil or lemongrass.
"The soap should also include moisturizing benefits so the skin does not become dehydrated and overly dry — these can include jojoba, coconut, sunflower or safflower oils," she says.
Tip
When using antibacterial soap, be sure to moisturize after your shower to help prevent dry skin.
Before buying body soap, it is important to know whether or not your skin is on the sensitive side.
"Many soaps have fragrance, which can be drying for patients with very dry skin," warns Karan Lal, DO, FAAD, dermatologist with Schweiger Dermatology Group and member of the Society for Pediatric Dermatology. "Most patients will likely have better results both in terms of body odor and skin health when using gentle cleansers." (Look for claims like "gentle," "fragrance-free" or "for sensitive skin" on the label.)
3. Unscented vs. Fragrance-Free
If something is unscented, it doesn't mean it is fragrance-free; it simply means it may have a masking fragrance, notes Dr. Garshick.
"If you have sensitive skin and are trying to avoid fragrance, it is best to stick with a product that is fragrance-free, rather than something that is unscented," she says. "It is important to remember that even fragrance-free products may cause some potential irritation or sensitivity."
Is this an emergency? If you are experiencing serious medical symptoms, please see the National Library of Medicine's list of signs you need emergency medical attention or call 911.