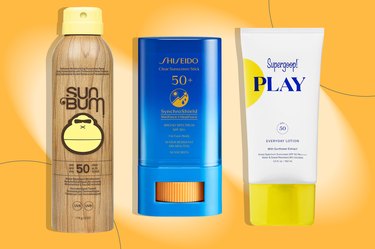 Whether you're going for a long run outdoors or spending time in the pool, it's essential to protect your skin against harmful UV rays. But to do that, you'll need a water-resistant sunscreen.
Unlike regular sunscreen, water-resistant ones are less likely to wash off when in water or when performing sweat-inducing activities.
"Although there is technically no such thing as waterproof sunscreen, there are formulas that are water-resistant, and this will be indicated on the label, along with the amount of time users should expect that it will remain effective when exposed to water," says Rebecca Marcus, MD, board-certified dermatologist and founder of Maei MD.
The Best Water-Resistant Sunscreens
We reached out to a dermatologist, who offered recommendations and broke down what to look for when shopping for water-resistant sunscreens. We selected the following products based on criteria including:
Duration of water-resistance
Ingredients
SPF
Find more information about how we choose and cover products here.
1. Blue Lizard Sensitive Mineral SPF 50 Sunscreen Lotion
Pros
Absorbs well into skin
Paraben- and fragrance-free
Mineral-based
Cons
Can leave a white cast on skin
This sunscreen comes highly recommended by Dr. Marcus for its mineral-based formula. Mineral sunscreens use active ingredients such as zinc oxide and titanium dioxide, which serve as a physical barrier to block UV rays. (By contrast, chemical sunscreens absorb into the skin.)
This one has 8 percent titanium dioxide and 10 percent zinc oxide to protect against both UVA and UVB rays.
Not only is it easily spreadable, it "absorbs well into the skin," Dr. Marcus says.
It also offers 80 minutes of sweat- and water-resistance, and it's free of parabens and fragrance, making it ideal for all skin types, including sensitive skin.
2. EltaMD Sport Broad-Spectrum SPF 50 Sunscreen
Pros
Sweat- and water-resistant
Hydrating
Easy to apply
Cons
Some reviewers say it's greasy
Pricey
Whether you're going for a run or taking a dip in the pool, Dr. Marcus recommends Elta MD's SPF 50 sunscreen for your face because it's sweat- and water-resistant for up to 80 minutes.
Formulated with beeswax and castor oil, the sunscreen is super-hydrating and smooth to apply.
For best use, it's recommended to apply 30 minutes before sun exposure and then every 80 minutes to maintain protection while you're sweating or in the water.
3. Supergoop Play SPF 50 Sunscreen Lotion
Pros
Fast-absorbing
Oxybenzone-free
Light and moisturizing
Cons
Some reviewers say it can be greasy
Despite launching in 2007, Supergoop has risen in popularity in recent years, becoming a favorite among beauty fanatics, influencers and sun-tanners.
If you're looking for sunscreen for swimming, look no further than Supergoop Play SPF 50. It's ideal for swimming because it has "a hydrating formula that is water-resistant for 80 minutes, allowing for plenty of time between reapplications," says Dr. Marcus.
It also comes in a large container, which encourages liberal use, she adds.
4. Sun Bum SPF 50 Sunscreen Spray
Pros
Easy application
Water-resistant for up to 80 minutes
Contains vitamin E
Coral reef-friendly
Cons
Some reviewers say it runs out quickly
We recommend Sun Bum's SPF 50 sunscreen for surfing because it's resistant to water for up to 80 minutes and comes in a spray can, making for easy application between rides.
Enriched with vitamin E, the sunscreen works to prevent free radicals from damaging and aging your skin. Additionally, it's free of oxybenzone and octinoxate, which are ingredients that can harm coral reefs, making this product "reef-friendly."
5. La Roche-Posay Anthelios Mineral SPF 50 Sunscreen
Pros
Oil-, paraben-, fragrance- and oxybenzone-free
Light formula
Dries matte
Great for aging skin
Cons
Pricey
Can leave a white cast (unless you opt for the tinted version)
Needs to be reapplied more frequently than some other water-resistant sunscreens
Sunscreens can be formulated with chemicals that irritate the skin, but this 100 percent mineral sunscreen is free of oil, parabens, chemical sunscreen filters, fragrance, oxybenzone and octinoxate, making a skin breakout unlikely.
The formula is weightless, fast-absorbing and leaves a matte finish. Plus, it received the seal of approval from the Skin Cancer Foundation.
Beyond these attributes, it offers protection for up to 40 minutes when you're in the water and is infused with senna alata extract, a tropical plant leaf that prevents skin aging.
6. Best Stick: Shiseido SPF 50 Clear Sunscreen Stick
Pros
Offers 80 minutes of protection
Easy to apply
Good for normal, dry or oily skin
Water- and heat-resistant
Cons
Some reviewers say the scent is strong
Shiseido's SPF 50 water-resistant sunscreen offers up to 80 minutes of protection. It's formulated with the brand's signature technology, which creates an invisible, protective layer in water and heat.
You can easily apply this sunscreen thanks to the stick applicator. Simply twist the knob and apply generously over your face and neck. It works on normal, combination, dry, and oily skin types and glides over makeup smoothly.
7. Black Girl Sunscreen Make It Matte Sunscreen Gel
Pros
Water-resistant
Great for wearing under makeup
Infused with coconut oil and shea butter
Cons
May not be best for oily skin
Often, mineral sunscreen can leave a white cast on your skin, but this one by Black Girl Sunscreen is specifically formulated for melanin-rich skin, so it absorbs quickly and well. You can wear it under makeup or for a trip to the beach or pool (it's water-resistant for up to 80 minutes).
Plus, it's infused with shea and coconut oil for extra hydration and softness.
8. Neutrogena Sport Face Sunscreen
Pros
Oil-free
Oxybenzone-free
Dermatologist-recommended
Cons
Can leave a white cast on skin, according to reviewers
If you're planning to go outdoors for a hike, run or workout, you're bound to sweat. This sweat-resistant sunscreen from Neutrogena is specifically designed for those hot, humid sessions.
Stay protected for up to 80 minutes with this easy-to-apply, non-comedogenic formula.
What to Look for in Waterproof Sunscreens
Here are some features to keep in mind when shopping for water-resistant sunscreens.
Not all water-resistant sunscreens are made the same, so you'll want to choose ones with active ingredients that block UV rays, such as zinc oxide and titanium dioxide.
Watch out for ingredients that can irritate the skin like fragrance, parabens and chemical fillers.
Additionally, it's best to look for a formula that states it is non-comedogenic, so it will not clog pores and potentially contribute to acne breakouts, Dr. Marcus says.
SPF, also known as the sun protection factor, is an indicator of how well your sunscreen protects against UVB rays.
According to Dr. Marcus, sunscreens should be SPF 30 or higher.
It's important to note that a higher SPF does not mean more protection. For best protection, it's best to reapply several times throughout the day and follow the product's instructions.
3. Duration of Water-Resistance
Water-resistant sunscreens will have a water-resistance duration printed on the label, usually ranging between 40 and 80 minutes.
If a product is water-resistant for 80 minutes, you should reapply a little before the 80-minute window ends for the best protection.
Is this an emergency? If you are experiencing serious medical symptoms, please see the National Library of Medicine's list of signs you need emergency medical attention or call 911.