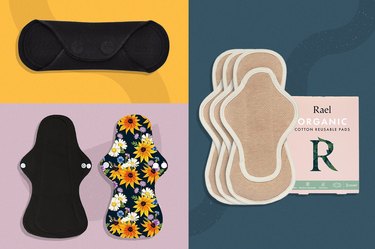 If you're a menstruating person, you know full well all the necessary preparations your monthly cycle brings. Not only do you anticipate not feeling your best, with cramping, bloating, muscle aches and headaches being just a handful of the common symptoms, per the National Institutes of Health, but you also know to expect several days of bleeding.
Luckily, we live in an age where there are myriad period products designed to alleviate the discomfort and absorb even heavy bleeding. Still, it can be tricky to find a period solution that's comfortable, affordable ‌and‌ eco-friendly.
Enter: reusable period pads, or sanitary pads designed for fast absorption of menstrual bleeding, optimal comfort and reusability (in other words, you're saving money and protecting the environment at the same time).
What Are Reusable Pads, and How Do They Work?
In a way, reusable menstrual pads have been around for a long, long time. In fact, our ancient ancestors used to sit on rags in what was known as the "red tent" during their monthly cycles. But the reusable pads we know today are much more convenient and sanitary: They're essentially a pad or underpant designed to absorb menstrual flow and then be washed and reused, explains Allison Rodgers, MD, an ob-gyn and reproductive endocrinologist with the Fertility Centers of Illinois.
"They work in a similar way to regular [disposable] pads in that they are meant to be used during your cycle to prevent the bleeding from penetrating through to your clothing," Dr. Rodgers says.
In terms of safety, reusable pads are a great option. "Assuming fabric without harmful dyes is used, they likely contain fewer chemicals than the popular sanitary napkin and tampon brands," notes Stephanie Hack, MD, MPH, a board-certified ob-gyn and founder of Lady Parts Podcast.
Of course, it's important to wash the pads well after each wear and to change the pad regularly (as you would a disposable pad) to avoid leakage and possible skin irritation.
We chatted with ob-gyns to better understand the benefits of reusable pads and chose our top picks based on their recommendations and the following criteria:
Absorbency
Materials
Cost
Style
Pros
Ultra-absorbable
Snappable wings keep it in place
Comes in fun colors
Cons
Can feel a bit wet when full
If you're someone who has to switch out your pads or tampons every two to three hours, you have what's known as a heavy flow. It essentially means you bleed a bit more than average during your monthly cycle.
Not to worry — there's a reusable pad for you, and it's this one by Aisle. Featuring high-performance absorption and the ability to hold 14 tampons worth of menstrual blood, this pad surely earns the title of "super."
Pros
Made from organic cotton
Free of harmful chemicals
Velcro closure keeps it in place
Includes travel pouch
Cons
Not ideal for a heavier flow
EarthHero's reusable pads are sleek and unintimidating. They're made from organic, reusable material and made without any questionable chemicals or strange odors.
You can also order them to customize to your flow — regular, heavy or super heavy. Reviewers note that these period pads are most ideal for lighter flows, though, and that the super heavy isn't really as durable as it sounds. Still, being that they're soft, all-organic and sustainable, they're definitely a brand worth trying.
Pros
Made from organic cotton
Free of harmful chemicals
Comes in a pack of three
Can be machine-washed and dried
Cons
Some reviewers report trouble with the snaps
Can shrink in the wash
While at first glance, these might look pricey, even for a product that you can reuse over and over again, it's worth noting that this purchase comes with three reusable pads, each made from 100-percent certified organic cotton and without any harmful ingredients like chlorine or pesticides.
They're made up of five layers of cotton, each offering moisture-wicking and odor-fighting abilities. Another unique feature is their hourglass shape and patented snap closure to keep them in place in your underwear at all times.
Pros
Absorbs flow from both sides
Sleek fit
Comes in multi-packs
Machine-washable
Cons
Only comes in one size
Designed to fit in Ruby Love apparel, so may not work as well with other clothing
One of the most common complaints for reusable pads in general is that they're only absorbent on one side. This line from Ruby Love is double-sided, which means you can flip the pad over when one side gets full and continue to wear it, cutting down on how many pads you need to wear (and wash) in a day.
They work with most underwear styles, aside from a thong, and they can be easily washed and dried in the machine, making them super convenient to use.
Pros
Multiple absorbency options
Easy to clean
Fun prints
Cons
Tend to slide around a bit, especially with movement
If tampons are intimidating or you just don't like the idea of inserting something to deal with period messiness, there are waterproof period pads you can wear if you want to swim with a pad.
This set comes in fun flower prints and has two layers: the waterproof layer, of course, along with a charcoal layer to help prevent odor and bacteria buildup.
Pros
Varying levels of absorption
Custom colors
45-day free trial and free returns
Cons
Run small, according to reviews
Not recommended to machine-dry
Thinx is one of the best-known brands for reusable period underwear, and it make our list because of its high quality and wide range of offerings.
Whatever style underwear you're looking for, Thinx has got it. There's even a quiz to help you find your perfect pair depending on your flow, style preferences and more. If you can't find just one pair that will work during your entire menstrual cycle, you can opt to customize your own set.
Each pair of Thinx underwear is breathable and has a little stretch thanks to a blend of cotton, nylon and elastane materials. They also feature odor-control technology to help cut down on any strong period smells.
Pros
Ideal for no-show under clothing
Comes in wide range of sizes
Cons
Only recommended for lighter flows
Runs small, according to reviews
If you're used to wearing thong underwear, it might feel weird to switch to a different style every time Aunt Flo comes to visit. Luckily you don't have to, thanks to Proof period underwear, which offers a thong design.
They're made from an ultra-soft, microfiber fabric that absorbs light flows, spotting and discharge. They're also sweat-resistant and stand up to odor fairly well, considering their small size.
3 Tips for Buying Reusable Pads
Here are some tips to keep in mind when shopping for reusable period products:
Not everyone has the same flow — yours might be heavier, lighter or somewhere in the middle. And it can change throughout your cycle.
So, when it comes to reusable menstrual pads, it's a good idea to find one that carries the right absorbency to handle your flow. You might even want to purchase multiple reusable pads in varying absorbances to match your flow throughout your cycle, suggests Dr. Hack. "Just like disposable pads, one size may not accommodate your entire cycle," she says.
One of the biggest perks of purchasing reusable pads is they tend to be made with safer ingredients and without hormone-disrupting chemicals that can lurk in many disposable brands (think: phthalates, parabens, bisphenol-A). Still, it's important to check that the reusable pad brand you purchase is made without chemicals and ideally from organic or natural sources. It's a plus if they're also made from recycled ingredients!
3. Keep the Cost in Perspective
While reusable pads may seem pricey upfront, especially when compared with their disposable counterparts, remember you'll be able to use them multiple times, potentially for years, which decreases the overall cost over time significantly ‌and‌ cuts down on environmental waste.
Is this an emergency? If you are experiencing serious medical symptoms, please see the National Library of Medicine's list of signs you need emergency medical attention or call 911.