Acid reflux occurs when acidic stomach contents travel up into the esophagus, causing irritation and pain. Also known as heartburn, this common symptom affects up to 20 percent of the population at least once a week, according to the "American College of Gastroenterology" in a February 2013 report. Along with medications, lifestyle and diet modifications are important for symptom management. Whole wheat foods and a diet high in fiber are linked to symptom improvement and a lower risk of acid reflux. However, for a small proportion of the population who have celiac disease, wheat can actually aggravate acid reflux.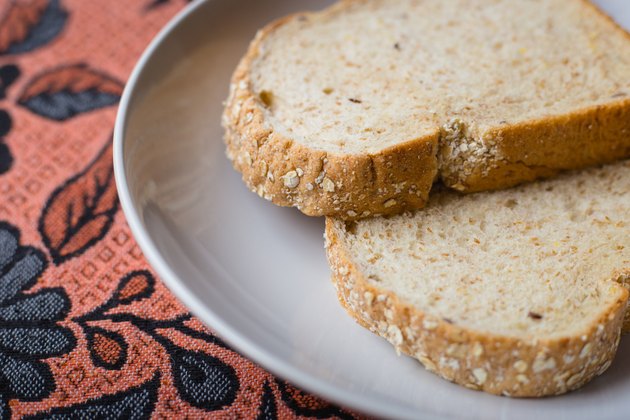 Acid Reflux Triggers
Foods containing wheat are prevalent in the American diet. When ground into flour, wheat is a main ingredient in bread, buns, crackers, tortillas, breakfast cereals, pasta and many other foods. For most people, wheat is well tolerated and does not aggravate acid reflux. If a wheat-containing meal or snack causes symptoms, it's helpful to understand common trigger foods to determine what food really is to blame. For example, if a breakfast of coffee and wheat toast causes symptoms, the caffeine is the more likely trigger. If a late dinner of lasagna and wine causes heartburn, the culprit could be the high-fat cheese, the acidic or spicy sauce, the late night eating or the alcohol -- all common triggers of acid reflux. Because of a lack of research on the effectiveness of blanket food restrictions, the American College of Gastroenterology's 2013 clinical practice guidelines recommend an individual approach to pinpointing and ultimately avoiding foods that worsen symptoms.
Fiber and Acid Reflux
The type of fiber found in wheat bran and wheat germ is not digested, and as it moves through the digestive tract, this fiber adds bulk to the intestinal contents and softens the stool. Eating more fiber is recommended for those suffering from various digestive disorders, including constipation and irritable bowel syndrome. A small study published in the January 2005 issue of "Gut" found that a high fiber intake was also linked to a lower risk of acid reflux symptoms. More research is needed to confirm these findings, and to learn how much fiber is needed to achieve real benefits. High fiber wheat foods include intact grains such as wheat berries, bulgar or cracked wheat, and whole wheat flour -- which is used to make whole wheat bread, buns, tortillas, crackers and cereals.
Whole Wheat and Weight
According to the American College of Gastroenterology, maintaining a healthy body weight is one most effective strategies for preventing and managing the symptoms of acid reflux. Extra body weight can increase pressure on the stomach, which can make the stomach contents more likely to travel up into the esophagus or throat. A research summary published in the March 2011 "Journal of Nutrition" reported that 14 studies have linked a higher intake of whole grains, including whole wheat foods, to a reduced weight or waist size. Although these studies did not directly address the risk of acid reflux, they show that a diet including whole grains plays an important role in weight management, which can in turn aid acid reflux prevention and management.
Wheat and Celiac Disease
While wheat is generally well tolerated by most people with acid reflux, it can aggravate the symptoms in people with celiac disease. In this population, gluten, a protein found in wheat, causes irritation and inflammation of the intestines. A March 2011 report published in "Clinical Gastroenterology and Hepatology" found that study participants with celiac disease were six times more likely to have moderate to severe acid reflux symptoms compared to study controls who did not have celiac disease. In addition, a gluten-free diet that by nature excludes wheat was linked to a significant and sustained improvement in symptoms.
Precautions and Next Steps
Among lifestyle management strategies for acid reflux, weight loss and sleeping with the head elevated are the most supported by research. Eating a nutritious, high fiber diet that includes whole grains may assist in weight management and obesity prevention and may reduce the risk of acid reflux, although wheat is best avoided by anyone intolerant or allergic to wheat or gluten. Anyone with frequent or severe acid reflux needs to see a doctor to discuss treatment options and prevention strategies, as untreated acid reflux can lead to serious health problems. In addition, a suspected allergy or intolerance to wheat or gluten needs to be evaluated by a doctor.
Medical advisor: Jonathan E. Aviv, M.D., FACS
Is This an Emergency?
If you are experiencing serious medical symptoms, seek emergency treatment immediately.