If you're aware of the potential harmful effects of trans fats, the phrase "hydrogenated oils" may cause you some concern. Only partially hydrogenated oils, however, contain trans fats. As food manufacturer Cargill explains, fully hydrogenated oils do not contain trans fats. Fully hydrogenated oils are oils that are heated and mixed with hydrogen gas in order to transform them from liquids to solids for use in food products. Although fully hydrogenated oils do not contain trans fats, they do still contain fat, so you may want to use them sparingly to maintain a healthy weight. In addition, some hydrogenated oils may cause other health risks.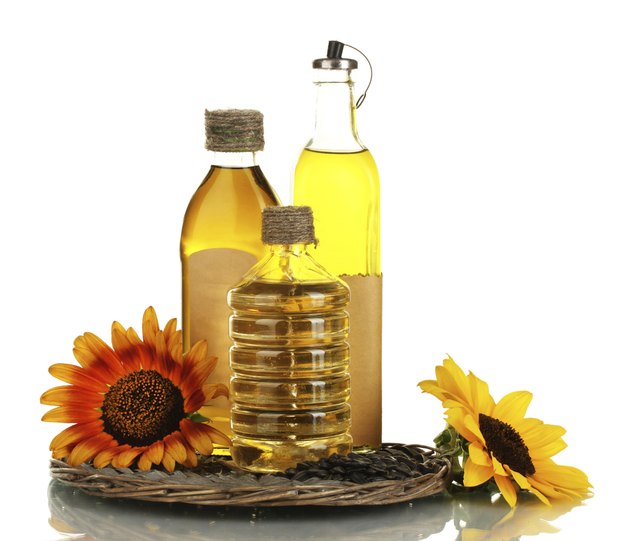 Peanut Oil
Fully hydrogenated peanut oil is an ingredient that you may find in peanut butter because peanut oil is a byproduct of peanuts. Peanut oil is a source of unsaturated fats and has a nutty flavor. In addition, the health website AskDrSears.com explains that peanut oil is a common oil used in cooking, especially in stir-frying. The website notes that peanut oil is favored for cooking because the fatty acids that it contains do not turn into trans fats when heated. Peanut oil is relatively lower in Omega 3 fatty acids than other oils.
Corn Oil
According to AskDrSears.com, fully hydrogenated corn oil is "not one of the more nutritious oils." This is because it is higher in saturated fats than most other oils, the website explains. However, AskDrSears explains that research has shown that hydrogenated corn oil may have some health benefits, such as improving your ratio of HDL, or good, cholesterol to LDL, or bad, cholesterol. A study from the February 1993 issue of the journal "Artherosclerosis," however, indicates that this is not always the case. This research found that when fed a diet high in cholesterol, hamsters who were fed hydrogenated corn oil experienced faster LDL increases than those who were not given the oil.
Cottonseed Oil
Fully hydrogenated ottonseed oil is another common ingredient in processed foods and can be found in products ranging from potato chips to cereal. AskDrSears.com explains that this is due to the low price of cottonseed oil, but it warns that the oil is high in saturated fats and low in unsaturated fats. In addition, AskDrSears.com suggests that cottonseed oil may contain harmful chemicals because the cotton used to produce the oil is often sprayed with pesticides. In addition, research from the January 2001 issue of the International Journal of Toxicology found that cottonseed oil increased tumors in rats and mice. However, the research also notes that hydrogenated cottonseed oil caused fewer tumors than sunflower oil.