Coconut oil melts at 76 degrees Fahrenheit, making it one of the few cooking oils that frequently changes states throughout the year as indoor air temperatures fluctuate. But this does not mean it is any less shelf stable than other common cooking oils. Boasting a longer shelf life than nearly any other cooking oil, coconut oil requires no special treatment for storage and is suitable for room temperature storage for up to two years.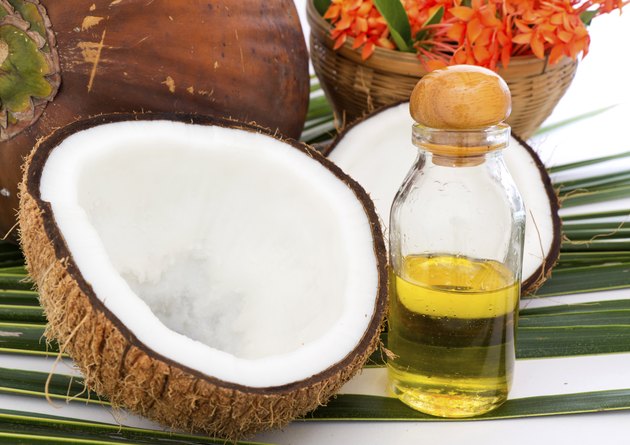 Coconut Oil Storage
Coconut oil is perfectly suitable and stable for shelf or pantry storage for up to two years. Depending on the indoor temperature and the season, this could mean it is either a liquid or a solid. You can store coconut oil in the refrigerator, but it will be hard and more difficult to use. Pantry storage is best for scooping and spreading; transitioning between a solid and liquid state multiple times does not affect quality or shorten coconut oil's shelf life.
Coconut Oil Storage Containers
Coconut oil is sold in either a glass or plastic container. Glass is the best option, as there is not a risk of leaching into the oil. For plastic containers, look for those that say BPA-free to avoid the possibility of harmful compounds being introduced into your coconut oil. While coconut oil can withstand high temperatures in cooking, it should not be stored in direct sunlight, especially when packaged in a plastic container.
Storing Bulk Coconut Oil
If you use a lot of coconut oil, you will find buying large quantities saves you big money. Often sold in 5-pound bulk increments, these large containers of coconut oil require a little prep work to properly store. You must first melt all the oil in a large pot to enable a complete mixing of oil and fiber. From there you can portion the coconut oil into smaller, food-safe containers for storage. Quarts and pints are the most common storage size. For individual portions, pouring coconut oil into an ice cube tray and removing and storing the individual cubes in the refrigerator or freezer is a time-saving solution.
Using Coconut Oil
Touted as a healthy fat by some natural food enthusiasts, coconut oil is a minimally processed high-temperature alternative to other fats and can be used for most cooking and baking purposes. Coconut oil is produced and used throughout the Philippines, most Pacific Islands and India for cooking.