You can lose the love handles and firm up the lower abs with a series of exercises performed several times weekly. The lower abdominal muscles form part of the abdominal wall, which covers the whole mid-section. The excess fat sitting on top of the oblique muscles called "love handles" may be tough to get rid of, but targeted exercises to build the muscles beneath the fat, combined with a healthy diet and cardiovascular workouts, will shrink these notorious trouble spots.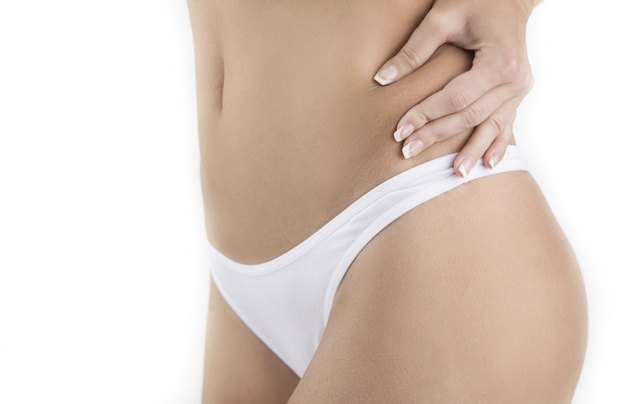 Step 1
Get into plank position. Start on your hands and knees. Rise onto your toes, lifting your buttocks toward the ceiling and keeping your weight distributed evenly through your legs, core, arms and wrists. Legs should be straight and palms should be flat on the mat. Turn your elbows in toward your ribs, gently squeezing your sides for more power and control through the pose. Hold the plank pose for up to one minute to build core muscles.
Step 2
Move into side plank position, with your right shoulder on top, hips stacked and weight evenly placed on your left elbow on the mat. Cross your right foot in front of your left. Raise your hips as you exhale, inhale as you drop your hips to the floor with control. Repeat 10 to 15 times on each side to strengthen the oblique muscles and lose the love handles.
Step 3
Twist your torso from the plank position as you float your right arm in an arch toward the ceiling, extending the arm in a straight line. Keep the hips stacked and core strong. Set your right foot on top of your left foot and hold for one count. Bring your right arm down and slide it into the space between your left hip and the mat for one count. Complete six to 10 repetitions. Return to plank and repeat on the opposite side.
Step 4
Vary your side plank workout by adding a stability ball into the mix for a greater challenge. Place the stability ball between your feet. Get into side plank position -- right shoulder on top, hips stacked and weight placed evenly on your left elbow. Contract your inner thigh muscles to help prevent the ball from rolling, and engage your core muscles by squeezing your navel in toward your spine. Lift your hips as you exhale slowly. Inhale as you dip the hips to the floor. Repeat 10 to 15 times on each side.
Step 5
Target your lower abs. Lie on a mat with your shoulders and back flat against the floor. Engage your core, inhale and raise both legs together toward the ceiling. Exhale and lower your legs toward the floor, letting your feet hover as close to the mat as possible without arching your back. Take a breath and raise your legs up into the starting position. As you gain strength in your lower abs, lower the legs closer to the mat without lifting your back from the mat.
Step 6
Diversify your low ab workout. Lie flat on a mat. Squeeze your abdominals, inhale and raise both legs up so they are 90 degrees to the floor. Keep your right leg straight as you lower the left leg toward the floor, letting it hover about 6 inches from the mat. Curl your upper body up, lifting head and shoulders from the mat, and clutch the back of the raised leg, pulling it toward you. Release, and switch legs. Maintain a strong core through five fast repetitions on each side.