When it comes to weight loss, everyone wants fast results. But faster isn't always better, or sustainable. Ideally you should aim to lose 1 to 2 pounds of fat each week, according to the National Heart, Lung and Blood Institute. This translates to about 8 to 16 pounds in two months. Walking at a pace of 3.5 miles per hour for 30 minutes, a 155-pound person can burn about 149 calories, or 298 calories in one hour. Over the course of 60 days this is 17,880 calories, or just over 5 pounds. You are going to have to increase that intensity, and make dietary changes, to lose 20 pounds in two months.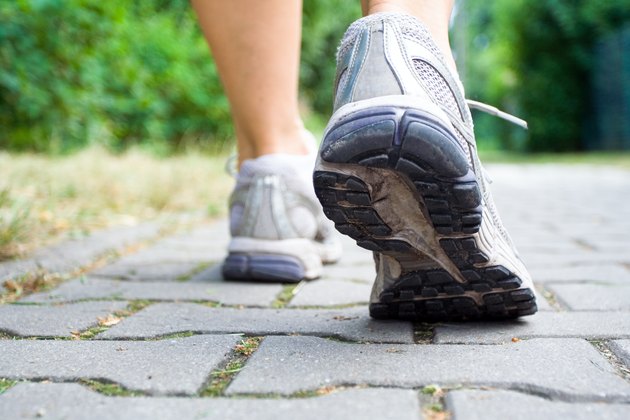 Step 1
Wear supportive shoes that are designed for walking. This will help protect your feet and joints so discomfort does not stop your walks. Also, wear exercise clothes made of fabrics that allow sweat to cool from your body.
Step 2
Start your workout with a five-minute warm-up. This is a moderate pace that gets your body ready for a harder workout. A moderate pace is individual based on your ability and fitness level.
Step 3
Increase your pace, outside or on the treadmill, so you are walking at a brisk pace. Use your arms for momentum by bending the elbows and swinging back and forth. Use longer strides to push your body.
Step 4
Maintain your challenging pace until minute 55, then slow down. The last five minutes of your workout is a cool-down. It allows your heart and breathing rates to return close to normal, and brings the blood back to your core.
Step 5
Keep all walks a minimum of 60 minutes. Perform them five to seven days per week for weight loss, according to the American College of Sports Medicine. Stretch after you're done walking to maintain flexibility and help prevent muscle soreness.
Tip
Change up your walks to keep your body challenged. Add incline to burn more calories during your walks. You can walk your dog or push kids in a stroller outside to help burn more calories during your walk. Do HIIT workouts, or high-intensity interval training during your walks. Alternate one minute of brisk walking with 30 to 60 seconds of speed walking, right below a jogging pace to burn more calories. To hit your weight-loss goal, reduce your caloric intake by 10 to 20 percent, and focus on whole grains, lean proteins and fresh fruits and veggies. Try to be more active throughout the day with housecleaning, using the stairs whenever possible, parking farther or even playing outside with your kids or a pet.
Warning
Don't have unrealistic expectations. It is possible to lose 20 pounds in two months, but it may take longer. Always get a doctor's clearance before beginning any exercise program. Don't hold hand weights or dumbbells to increase intensity, as it puts undue strain on your shoulder joint. Don't go from not exercising at all to exercising everyday. You may injure yourself.