Having high cholesterol can increase your risk for heart disease and stroke. While medications can help lower your low-density lipoprotein, or "bad" cholesterol, you can also make changes in your diet and exercise habits to lower your LDL levels. Eating foods high in saturated fat, trans fat or dietary cholesterol can increase your LDL, but certain other foods, drinks, spices and herbs can help improve your blood cholesterol levels.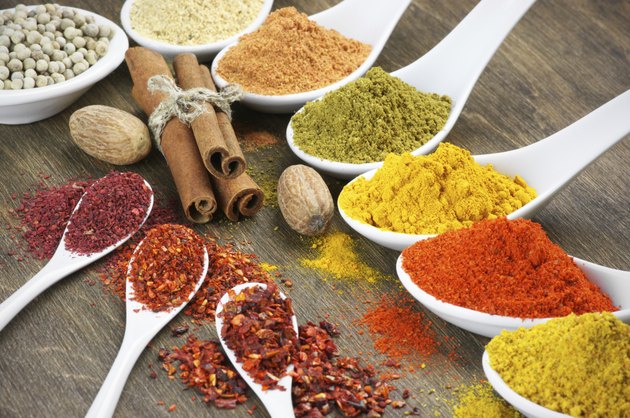 Foods to Eat
Foods rich in soluble fiber, such as pears, legumes, oats, barley, eggplant and okra, are beneficial because soluble fiber helps trap cholesterol and remove it from the body. Soy foods contain soluble fiber and substances called isoflavones that help lower cholesterol. Avocados may be a good food choice for people with high cholesterol because they contain soluble fiber as well as a plant chemical called beta-sitosterol and monounsaturated fat, both of which help lower bad cholesterol. Nuts provide both monounsaturated fat and plant sterols, another compound that helps remove cholesterol from your body.
Beverages to Drink
Drinking just 2 cups of green tea per day for 42 days may lower your LDL levels by about 8 percent, according to a study published in the "Journal of Nutritional Biochemistry" in March 2005. Drinking five servings per day of black tea for three weeks may also help you lower your cholesterol by up to 11.1 percent , according to a study published in the "Journal of Nutrition" in October 2003. Tomato juice is rich in lycopene, which may lower LDL. If you make your own juice, include broccoli and cabbage along with other fruits and vegetables, as juices containing these vegetables may help lower your LDL, according to a study published in the "Japanese Journal of Clinical Pathology" in November 2003.
Add Flavor With Spices
Spices do more than add flavor to your food -- many also have health benefits. Those that may be beneficial for lowering your LDL levels include garlic, curcumin, ginger, cinnamon and coriander. In some cases, these spices also reduce the oxidation of LDL, making it less likely you'll experience clogged arteries, and increase beneficial high-density lipoprotein levels, which help remove LDL cholesterol from your body, according to a study published in "Current Cardiology Reviews" in November 2010.
Potential Herbal Remedies
Blond psyllium can help lower your LDL by up to 10 percent if you take 10 to 12 grams per day for at least seven weeks, according to MedlinePlus. Aloe may also help, potentially decreasing your LDL by up to 18 percent in 12 weeks with a daily dose of 10 to 20 milliliters, notes MedlinePlus. People who can't tolerate the cholesterol-lowering statin medications can sometimes achieve significant LDL reductions with red yeast rice along with making lifestyle changes, according to a study published in "Annals of Internal Medicine" in June 2009.