Soy's bad health reputation comes primarily from compounds called isoflavones, whose chemical structure resembles estrogen. However, studies into both the positive and negative effects have yielded mixed or inconclusive results, and humans have been eating soy-containing foods for years without confirmed side effects. If you're healthy, it's fine to drink soy milk every day, as long as you watch your portion size and choose low-cal and sugar-free varieties of soy milk. However, soy's safety for pregnant women and breast cancer survivors isn't well-known, so it's best to steer clear until you talk to your doctor.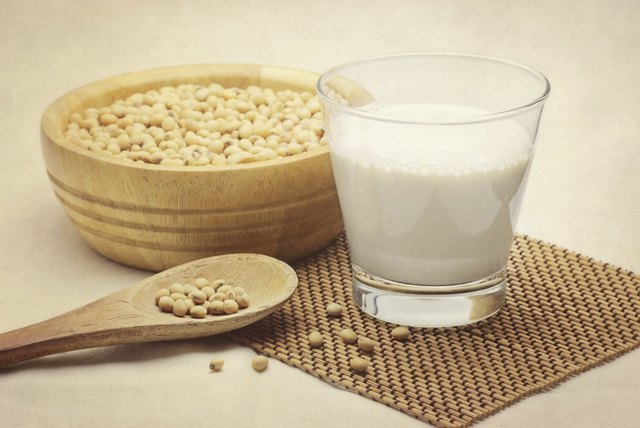 Health-Boosting Benefits
Soy milk comes packed with between 6 and 8 grams of protein, which helps your body maintain and build muscle. Some varieties of soy milk also come fortified with vitamins and minerals -- a glass of unsweetened soy milk, for example, supplies 45 percent of your daily vitamin B-12 needs, along with 30 percent of your calcium requirements. Including a glass of soy milk in your daily meal plan helps boost your nutrient intake, helping to stave off a deficiency.
Stay Calorie-Conscious
While soy milk offers lots of nutritional benefits, it's also a concentrated source of calories. A cup of soy milk contains between 80 and 150 calories -- depending on the flavor -- which can quickly add up to hundreds of extra calories if you're consuming a couple of glasses each day. If you're going to introduce soy milk into your diet, you'll have to compensate for the extra calories by reducing your food intake, otherwise you'll gain weight. Consuming just 80 extra calories per day -- the amount found in 1 cup of unsweetened soy milk -- adds up to almost 30,000 extra calories over the course of a year, or the equivalent of more than 8 pounds of fat.
Not So Sweet
If you're choosing sweetened soy milks, like traditional vanilla- or chocolate-flavored varieties, you'll also be drinking tons of sugar. You need to keep your total added sugar intake low -- the American Heart Association recommends a limit of 9 teaspoons for men and 6 teaspoons for women -- or you risk weight gain and cardiovascular disease. A cup of chocolate soy milk weighs in at 4.5 teaspoons of added sugar, while the vanilla version has slightly more than 2 teaspoons. If you're including sweetened soy milk in your diet daily, you could easily blow your added sugar budget if you're eating other foods with added sugar.
GMO Concerns
Soy is one of the most abundant crops grown in the United States, and roughly 90 percent of the soy on the market is genetically modified, according to the U.S. Department of Agriculture. Genetically modified -- GM -- soybeans don't offer the same benefits as organically grown beans, though, reports a study published in "Food Chemistry" in 2014. The study found that organic soybeans are lower in saturated fat and they offer more protein and zinc than GM soybeans. Genetically modified soy also has other drawbacks, like a buildup of herbicide residues on the beans.
Serving Tips
To keep your soy milk as healthy as possible, choose unsweetened varieties that are both low in calories and free of added sugar, and stick to organic soy milk to avoid genetically modified soy. If you find plain soy milk bland, use sugar-free flavorings at home to make a more interesting beverage. Blend plain soy milk with a whole vanilla bean for potent vanilla flavor, or steep chai tea in soy milk in the fridge overnight for flavored soy milk. Crave sweetness? Blend your soy milk with chopped dates to infuse your drink with natural sugar. Each date contains 66 calories, though, so use the smallest piece of date possible to achieve your desired sweetness. Drink your flavored soy milk on its own, or use it in smoothies instead of dairy milk.