Walking burns calories, and the faster you walk, the more you burn. But speed isn't the only factor in losing weight by walking. You "have to reach 65 to 70 percent of your body's maximum heart rate to substantially improve your fitness and burn serious calories," according to "The Complete Guide to Walking." Because people burn calories differently, your weight, metabolism and intensity of exercise are also factors in burning 3,500 calories to lose 1 pound.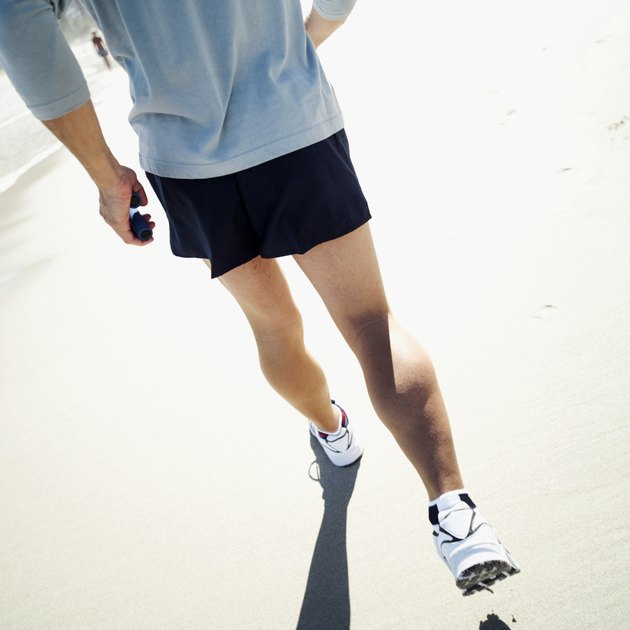 Speed Counts
Weight loss for a specific individual depends on effort, but the average 150-pound person who walks for one hour burns 190 calories walking 2 mph, 258 calories walking 3 mph, 374 calories walking 4 mph and 586 calories walking 5 mph, according to "Guide to Walking." The numbers sound small, but the Harvard Men's Health Watch reported that people who walked regularly for 15 years weighed 18 pounds less than non-walkers.
Walking in Rhythm
You can increase your heart rate and speed by improving your posture and taking faster steps, according to "Guide to Walking" author Mark Fenton. Keeping your head up as you walk, while avoiding "excessive sway" in your lower back can improve your posture. If you're 5 feet 6 inches to 6 feet tall, you can walk 3 mph by taking 105 to 115 steps per minute and 4 mph by taking 125 to 135 steps per minute. Shorter people need more steps to boost speed; taller people can take fewer. Adding headphones and a few favorite tunes with beats per minute that match your desired walking speed help you keep up the pace as you walk in rhythm with the music.
Stride and Speed
The argument that taller people's longer legs means they can walk faster than short people "holds no water," according to "Guide to Walking." In fact, short people have an advantage. Walking speed depends on stride length and stride rate. Tall people have a longer stride, but their ability to lengthen it is limited. On the other hand, short people can increase their stride rate more easily than tall people because each step requires less distance and less effort and "there's no such clear limit to stride rate."
Maximum Heart Rates Vary by Sex
If you're a man, your maximum heart rate is 220 heartbeats per minute minus your age. It's 200 heartbeats per minute if you're 20 years old. If you're 20, reaching 65 to 70 of your maximum heart rate, or exercising at an intensity of 65 to 70 percent, requires you to walk fast enough to have your heart beat 130 to 140 times per minute. If you're a woman, your maximum heart rate is calculated by subtracting 88 percent of your age from 206. Thus, if you're 30 years old, your maximum heart rate is 179.6 and an intensity of 65 to 70 percent is equal to 116.7 to 125.7 heartbeats per minute.
Fast Walks and Burning Calories
Fast walks are one of the three primary ways that walkers can raise their heart rate enough to burn a lot of calories, according to "Guide to Walking." Long walks and strength training are the others. Author Mark Fenton, a longtime editor at "Walking" magazine, recommends losing weight by walking briskly for 60 minutes two or three days per week, increasing your speed on shorter walks two or three days per week and doing six to eight muscle-building exercises two or three days per week. To further increase the intensity of your walks, consider walking uphill and vary the surfaces, from smooth sidewalks to stairs.