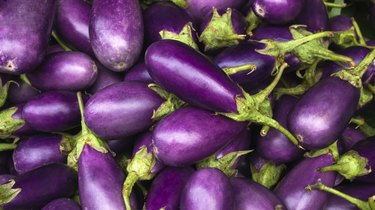 The American Cancer Society recommends eating fruits and vegetables of different colors—yellow, orange, blue, red and purple. Generally, the more colorful the fruit or vegetable, the more nutrients it contains along with cancer-fighting properties, antioxidants. According to U.S. Department of Agriculture, purple foods contain important nutrients called anthocyanins, which are responsible for the purple, blue and red colors of some fruits. As an antioxidant, anthocyanin protects against cell damage from free radicals. .
Fruits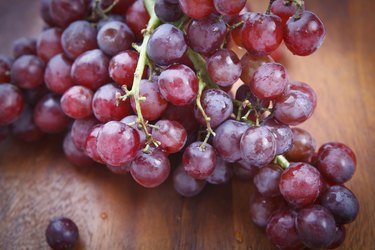 Purple grapes, figs, passion fruit, raisins, plums and dried plums are popular purple fruits, but many berries--blackberries, blueberries, elderberries, cranberries, chokeberries and bilberries--also count as purple foods. These foods are some of the richest sources of anthocyanins. Blue and red fruits like concord grapes, cherries and pomegranates also are considered part of the range of colors included in the family of purple foods and are rich in disease-fighting anthocyanins.
Vegetables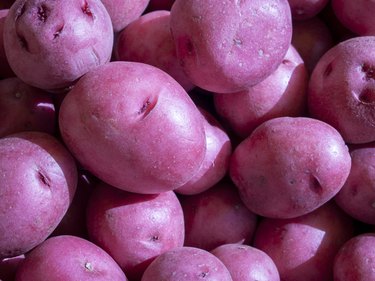 Eggplant is the most familiar purple vegetable, but there are many others. Purple carrots, purple cabbage, purple asparagus and purple-fleshed potatoes are colorful variations of familiar vegetables. Choices also include purple Belgian endive, purple peppers, purple olives and purple asparagus. According to Janet Helm with the Chicago Tribune, local farmers' markets or specialty catalogs are good places to find purple foods like purple onions and purple kale.
Legumes and Grains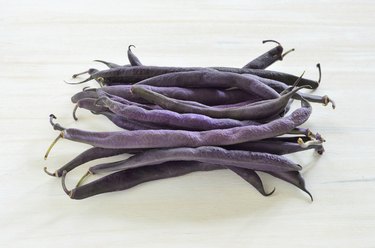 Purple pod pole greens have a vivid purple color that is lost in the cooking process. Also known as royal burgundy and royalty purple, the purple pods turn green when cooked.
Purple grains include purple rice and purple wheat, which is native to East Africa and is used in breads and baked goods. Purple corn, which is common in Peru and a rich source of six anthocyanin antioxidants, is used to make purple corn flour.
Is this an emergency? If you are experiencing serious medical symptoms, please see the National Library of Medicine's list of signs you need emergency medical attention or call 911.