When diet and exercise are not enough to control blood pressure, your doctor might prescribe one of several types of prescription drugs to lower your blood pressure. Although these drugs are usually effective and can prevent serious consequences, it is possible to overdose on each of the blood pressure medications available. Blood pressure medication overdose symptoms can affect the cardiovascular, nervous, digestive and respiratory systems.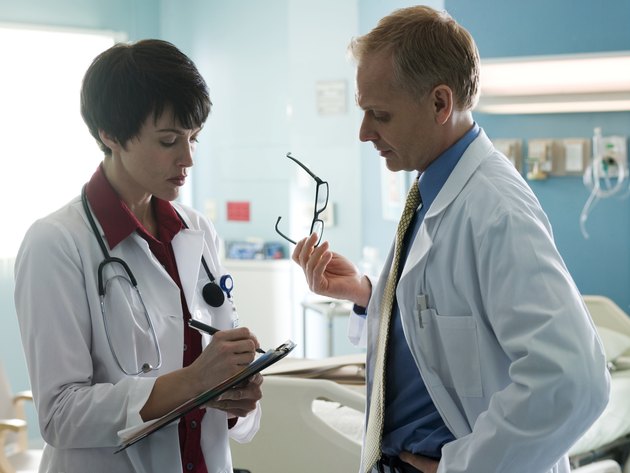 ACE Inhibitors
ACE inhibitors prevent the conversion of angiotensin I to angiotensin II, relaxing the blood vessels and reducing blood pressure levels. Examples of ACE inhibitors include captopril, enalapril, lisinopril and quinapril. Symptoms of ACE inhibitor overdose include very low blood pressure, low potassium levels, low sodium levels and reduced kidney function. Metabolic acidosis, which is an imbalance of acids and bases in the body, can also occur as the result of an overdose.
Alpha Blockers
Alpha blockers are used to treat high blood pressure because they dilate the blood vessels and relax the muscles. This reduces the amount of force the heart needs to use to pump blood. Examples of alpha blockers include alfuzosin, terazosin and doxazosin. Symptoms of alpha-blocker overdose include dizziness, weak pulse, lightheadedness, fainting, weakness and cold, clammy skin.
Beta Blockers
Beta blockers block the effects of norepinephrine and epinephrine on the heart, reducing the heart rate and blood pressure levels. Examples of beta-blockers include bisoprolol, atenolol, metoprolol and acebutolol. According to The New York Times Health Guide, symptoms of a beta-blocker overdose include difficulty breathing, wheezing, blurred vision, irregular heartbeat, double vision, lightheadedness, shock, heart failure, slow or rapid heartbeat, confusion, coma, convulsions, excessive sweating, drowsiness, fever, weakness and nervousness. Severe overdose can also cause a person to stop breathing.
Calcium Channel Blockers
According to Dr. Suzanne Doyon of the Maryland Poison Center, calcium channel blocker overdoses are one of the most common causes of poisoning deaths. Out of 1,000 people who overdose on these drugs, 56 die as a result. Calcium channel blockers block the flow of calcium into the heart, which reduces blood pressure. Examples of this type of drug include amlodipine, verapamil and felodipine. Symptoms of overdose include altered mental status, high blood sugar, slow heartbeat and very low blood pressure. Lactic acidosis, a buildup of lactic acid in the body, can also occur as the result of a calcium channel blocker overdose.
Diuretics
Diuretics reduce blood pressure by eliminating excess fluid and sodium from the body. Examples of diuretics include hydrochlorothiazide, indapamide and chlorothiazide. Diuretic overdose symptoms include slow breathing, confusion, drowsiness, fever, muscle cramps, skin sensitivity to sunlight, seizures, pale urine, weakness, vomiting, coma, dizziness, fainting, low blood pressure, nausea, rash, frequent urination, vision problems and yellow skin, according to the National Institutes of Health.
Vasodilators
Vasodilators work to dilate the blood vessels so that blood flows more easily and the heart doesn't have to work as hard. Examples of vasodilators include minoxidil and hydralazine. Symptoms of vasodilator overdose include slow heartbeat, low blood pressure, reduced cardiac output and pooling of blood in the veins. These cardiac effects can lead to increased intracranial pressure, paralysis, coma, difficulty breathing, seizures and death.
Is This an Emergency?
If you are experiencing serious medical symptoms, seek emergency treatment immediately.