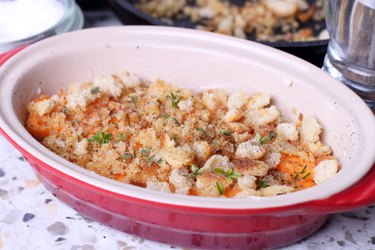 Alli is the first Food and Drug Administration approved weight loss pill. Alli contains half the prescription strength of the weight loss drug orlistat. To avoid unwanted side effects, users of Alli are advised to follow a low fat diet. To eat the right things, the makers of Alli recommend eating healthier foods when you actually are hungry and not just emotional eating.
Function
Alli works by blocking approximately 25 percent of fat from the foods you eat from being digested states the MSNBC website. You are asked to monitor the fat intake in each of the foods you eat. You are not to eat more than 42g of total fat daily or 15g of fat at each meal.
Features
Eat more fruits and vegetables when you start Alli. Low fat and fat free milks and cheeses are allowed when taking the weight loss pill. Use fat free cooking sprays instead of oils and butters to cook your foods. Lean cuts of meat are allowed along with turkey, chicken and fish. Trim off fat from your protein selections.
Time Frame
You should eat about three meals and two snacks on a day while taking Alli. The snacks you choose should be low in fat, but still with the ability to curb your hunger. Some snack ideas include fruit salad, pretzels, fat free pudding, low fat crackers, carrot sticks and celery with fat free cream cheese.
Types
The makers of Alli suggest that you choose lean proteins for meals that you eat out. Instead of red meats, choose fish, chicken and turkey selections. The proteins should be grilled, baked or steamed instead of fried. Hold any fatty condiments, such as dressings and mayonnaise. Instead choose fat free versions or flavor your food with spices. Sides should be made up of vegetables instead of fries or pieces of bread. If you order soup, choose broth based selections over cream based soups.
Warning
You are encouraged to follow a low fat diet or else you are likely to suffer some unwanted Alli side effects. Side effects include stomach pain, gas, oily discharge, bowel urgency, loose stools and oily diarrhea.