Between the vomiting, diarrhea and stomach pains -- all typical symptoms of food poisoning -- the thought of eating anything can be unappealing. However, you need to keep your strength up and stay hydrated, despite the way you're feeling. Choose bland, light foods and sip on fluids to avoid distressing your body even further.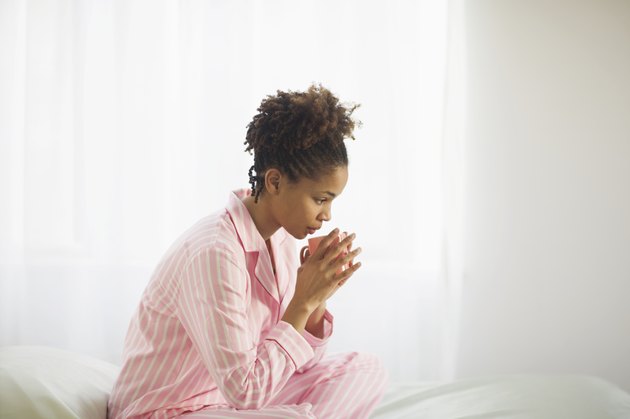 Food Poisoning Basics
When you get food poisoning, it's because one of a number of types of bacteria, such as Campylobacter enteritis, E. coli enteritis, Salmonella or Staphylococcus aureus, was present in your food. Perhaps it was introduced to your meal by someone who didn't wash his hands properly before prepping, by utensils or dishes that weren't fully cleaned, or because the food wasn't stored or cooked at the proper temperature. Typically, it's not a serious condition; however, it can be particularly problematic for someone with a serious medical condition, weakened immune system or for pregnant or breastfeeding women. For most people, though, it means you'll have trouble keeping down any food you eat.
Start with Fluids
Between the vomiting and diarrhea, it's easy to get dehydrated when you have food poisoning. When the vomiting dies down, take a sip or two of fluids every 10 minutes, suggests the Central Connecticut State University website. Options include water, flat soda, weak tea, broth or apple juice. If that makes you start vomiting again, stop drinking fluids for another hour and then try again.
BRAT Diet and Bland Foods
Once you feel like your stomach can handle it -- often on day two -- begin to add bland foods to your diet. If you're wondering what to eat, keep the acronym, "BRAT" in mind, as it stands for bananas, rice, applesauce and toast, which are all smart choices after you've battled food poisoning. Other bland options include crackers and cooked cereal like oatmeal.
The Road to Recovery
Once you're ready to return to a normal diet, do so by adding soft cooked eggs, stewed fruits, cooked vegetables and white meat chicken to your meals. Until you're 100 percent back to normal, avoid dairy products, fried, greasy or spicy foods, raw vegetables, alcohol and caffeinated sodas.
Add Probiotics
Once you recover from the bout of food poisoning, add probiotics to your diet. Probiotics, such as Lactobacillus acidophilus and Lactobacillus bulgaricus, help restore the balance of healthful bacteria in your intestine, notes the University of Maryland Medical Center website. You can find probiotics in yogurt and supplements. Look for labels indicating that the products contain "live active cultures."