Hitting a punch bag is a great workout -- not just for your arms but your whole body. Long "rounds" of three minutes will develop your anaerobic fitness and muscular endurance, while shorter "rounds" of higher intensity punching will develop power and strength. Punch bag training is also a great stress reliever and effective calorie burner.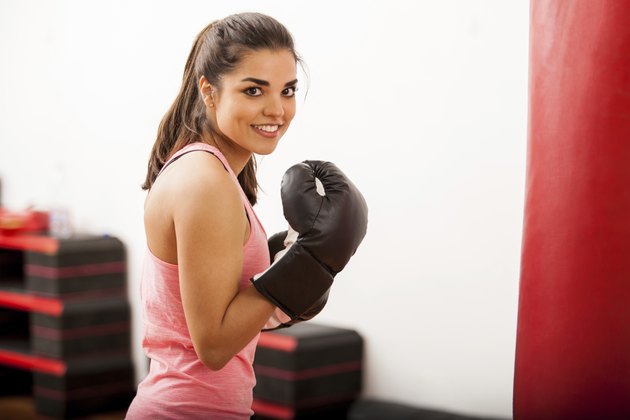 Despite appearances, a well-delivered punch is a whole body movement. A punch is the result of a wave of kinetic energy that starts at your feet, travels up your leg, into and through your hips and core muscles and then along your arm via your chest and shoulders. Each punch you throw -- a hook, jab, cross or uppercut -- uses the same muscle groups, but each one places a slight emphasis on one muscle or another.
The Muscles of the Shoulder
The muscles of your shoulder are strongly involved whenever you throw a punch. Your anterior deltoids, located on the front of your shoulders, work in synergy with your pectoralis major or chest muscles to drive your arm out toward your punch bag. Once you have struck your target, the muscles opposing your chest and shoulders -- specifically your middle trapezius, rhomboids and latissimus dorsi -- draw your arm back ready for you to throw another punch.
The Muscles of the Upper Arm
Extending your arm is primarily the job of your triceps brachii. Located on the rear of your upper arm, this powerful muscle snaps your elbow out so that you can reach your target. Your biceps brachii, located on the front of your upper arm, is responsible for bending your elbow as you pull your arm pack into your guard position, ready to throw more punches.
Muscles of the Lower Arm
Keep your wrists straight when punching; failure to do so may result in serious wrist and/or hand injury. There are a large number of muscles in your wrist that are either wrist extensors or wrist flexors. The extensors and flexors of the wrist contract statically and evenly on either side of your wrist joint to ensure your wrist is straight when your knuckles strike the punch bag. Boxers often wear hand and wrist wraps to help keep their wrists straight and minimize the likelihood of a hand or wrist injury.
The Muscles of the Core
Although punching is often thought as an arms-only exercise, the muscles of the core -- the collective term used to describe your abdominal muscles, waist and lower back -- are very much involved. When you throw a punch, your shoulders and spine twist to generate greater amounts of power. The muscles responsible for twisting your spine are called your obliques and are located on and below your ribs. Your rectus abdominis, also known as your abs and located on the front of your torso, braces your spine in position to ensure that your midsection does not collapse, which would result is a loss of power.