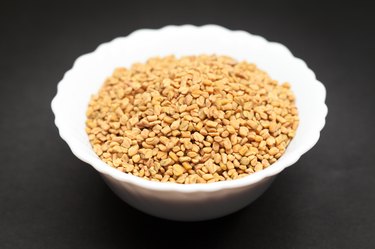 The Dexatrim diet pill, developed in the 1970s and popularized in the 1980s, is a relative graybeard among over-the-counter diet aids. As competition for the dieting public's attention intensified over the years, Dexatrim underwent a number of makeovers, changing its formula to represent diet trends of the day and up-to-date medical information. The original pill became controversial when a Yale University School of Medicine study found a link between its contents and hemorrhagic stroke in females, and Dexatrim pulled that formulation off store shelves in 2001.
The U.S. Food and Drug Administration, or FDA, began sounding the alarm about the possible dangers of phenylpropanolamine, or PHP, as early as 1984, according to an internal document from the Division of OTC Drug Evaluation at the FDA. The drug is a vasoconstrictor, prescribed to patients with allergies like hay fever or even congestion associated with the common cold. It works by constricting the blood vessels so that drainage occurs more freely in congested areas, but it showed demonstrable efficacy off label as an appetite suppressant. Early diet medications including Dexatrim contained PHP. The FDA initiated a ban on the substance in over-the-counter decongestants and appetite suppressants in October 2000.
Like most diet drugs, Dexatrim contains a "proprietary blend" of herbs that the company claims assists dieters in their weight loss goals. A few of the herbs in today's formulation have been around since the beginning, including licorice root, cocoa extract, fenugreek and kelp. Licorice root has no direct connection to any weight loss studies, but it is a mild laxative that could help dieters on reduced-calorie diets to remain regular. Cocoa extract and fenugreek may help stabilize blood sugar, but only at dosages that are far greater than those included in the formula, according to Kathleen Goodwin, R.D., at The Diet Channel, an online community of diet and nutrition professionals. Kelp provides most of the vitamins present in the basic, original formulation.
The primary minerals in the original Dexatrim formula are calcium, magnesium and chromium. Calcium and magnesium have no connection to weight loss, but chromium has, in some studies, proven to be an effective insulin regulator, according to an article in "About" magazine by Karlene Karst, a registered dietitian. It's also important in the synthesis of both fat and carbohydrate, according to MedlinePlus, a service of the U.S. National Library of Medicine and the National Institutes of Health.
When the FDA banned PHP, Dexatrim replaced it with ephedrine until the FDA banned that substance as well in 2003. Since then, the ingredient most closely associated with the effects of both PHP and ephedrine is bitter orange extract. As of 2010, the FDA is undecided about the dangers of bitter orange extract, but it is under study. Caffeine has been present from the beginning, but concentrations have grown as Dexatrim has phased out some of the other active ingredients.