If you've over-salted your soup—or you don't care for the saltiness of a canned soup—there is hope. Knowing a few chef's secrets can transform your brine into the big bowl of goodness you intended in just 15 to 30 minutes. The magic lies in neutralizing, removing or reducing an adequate amount of salty liquid, and thus the salt, in your soup.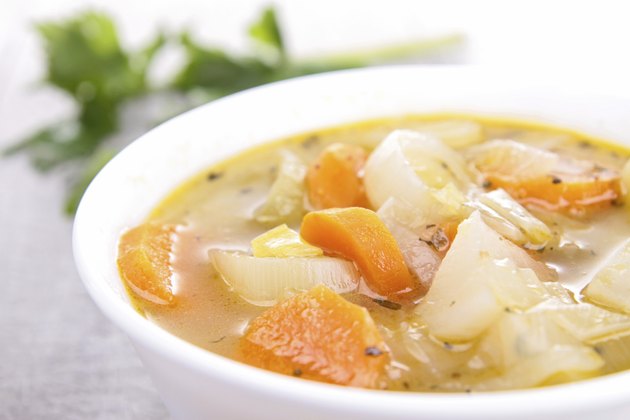 Reducing Saltiness in a Thin Soup
Step 1
Potatoes or eggplant will absorb liquid and salt to reduce the saltiness of a thin soup. For a 2- or 3-liter soup or stock, place four peeled, quartered, medium-sized fresh potatoes or one medium-sized, peeled, chopped eggplant into the pot.
Step 2
Leave the eggplant or potato chunks on top of the soup and simmer for about 15 to 30 minutes or until the salty flavor is sufficiently reduced.
Step 3
Add more liquid (broth, consomme, etc.) to the soup, since the potatoes or eggplant probably will have soaked up a liberal amount.
Reducing Saltiness in a Thick Soup
Step 1
If the soup or stew is thick and overly salty, take a few slices of bread and remove the crusts.
Step 2
Discard the crusts and break the remaining pieces of bread into smaller bread chunks the size of croutons or a bit larger.
Step 3
Place the bread chunks on top of the soup. As the bread soaks up the liquid, they will simultaneously absorb some of the excess salt.
Step 4
Remove the bread crumbs, taste the soup and continue to add more bread crumbs until the soup reaches a desirable level of saltiness. Cooks may wish to add more liquid as well as flavoring after the bread crumbs have soaked up much of the salty broth.
Neutralizing the Saltiness of Soup
Step 1
If the above method(s) have failed to sufficiently reduce the saltiness of soup, try neutralizing the flavor with one teaspoon of sugar.
Step 2
Next, add one teaspoon of vinegar or lemon juice.
Step 3
Continue to stir in teaspoons of sugar and lemon juice or vinegar a little at a time until it tastes right to you.
Diluting Soup to Reduce Salt
Step 1
The most effective, albeit time-consuming, method of reducing the salinity of soup or stew is to dilute it by adding more of every other ingredient in the recipe. First, add more liquid in the form of broth and perhaps some water or cream.
Step 2
Next, add other ingredients from the recipe, such as vegetables and spices.
Step 3
Adding more ingredients--especially liquid--will result in a lot of extra soup; serve more now or store it in the freezer for future use.
Things You'll Need
Potatoes or eggplants, raw

Potato peeler

Knife

Cutting board

Bread, sliced

Sugar

Vinegar

Teaspoon

Water or broth

Sponge, towel or other absorbent material
Tip
Crazy as it may sound, you can also use a clean sponge, towel or other piece of absorbent material to soak up the salty liquid from a soup.