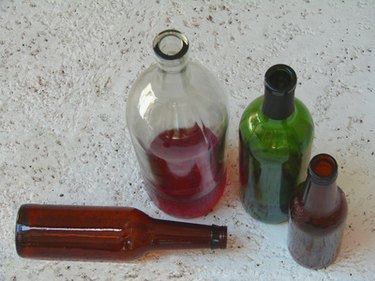 About Erectile Dysfunction
Erectile dysfunction is a condition in which a man is unable to achieve an erection sufficient for sexual intercourse. In some cases the man is able to achieve an erection but unable to maintain it long enough to complete the sex act. Most men experience erectile difficulties at some point in their lives, but this is different from ED. According to the Mayo Clinic, those with ED will fail to achieve an erection at least 25 percent of the time. ED has several causes and alcohol consumption can be one of them.
Alcohol: Effects on the Body
Alcohol is a nervous system depressant and can actually block nerve impulses and messages between the brain and body. This is why drunk people often experience slurred speech, emotional outbursts and difficulty walking. But even small amounts of alcohol will affect the nervous system, causing slower reflexes and fuzzy thinking. Moderate drinking—one to two drinks a day, for men—of any type of alcohol, may actually improve cardiovascular health, according to the Mayo Clinic. Excessive alcohol use and alcohol abuse, can cause scarring of the liver, high blood pressure and an increased risk of some cancers.
Alcohol: Effects on Sexual Performance
Where alcohol may succeed as an aphrodisiac in getting people "in the mood" it may fail in execution. During an erection, the penis fills with blood then the vessels close, preventing backflow, so that the penis remains erect. In the short term, overconsumption of alcohol causes the blood vessels in the penis to expand, allowing for more blood flow, but prevents those vessels from closing. As a result, the penis may become erect but not remain so, as there is nothing to prevent backflow.
In the long term, overconsumption of alcohol actually damages the blood vessels and contributes to hypertension and even heart disease, both contributing factors to erectile dysfunction. In healthy men, moderate alcohol consumption should not cause erectile dysfunction.
Is this an emergency? If you are experiencing serious medical symptoms, please see the National Library of Medicine's list of signs you need emergency medical attention or call 911.