Low blood pressure, or hypotension, can cause severe symptoms, leading to dizziness, fainting, and even negative impact on your brain and vital organs. Additionally, any movement you perform after being seated for a while may cause higher levels of dizziness. Exercise, such as climbing stairs, is generally attributed to raising blood pressure during the act of exercising yet causes it to lower when you are finished.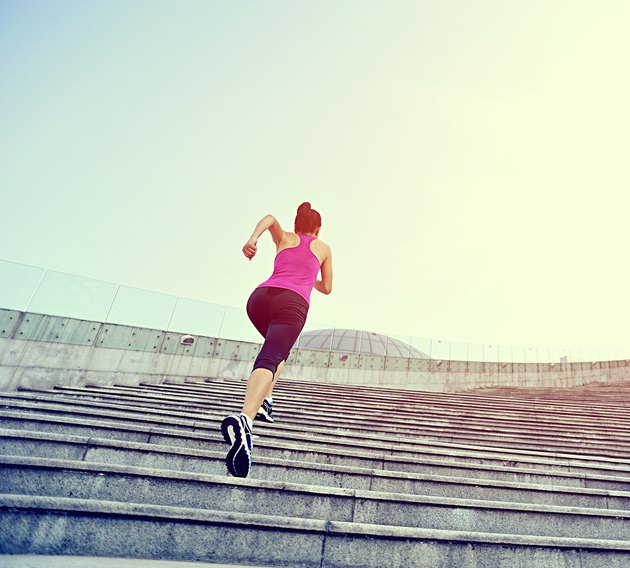 Definition
Blood pressure measures the pressure in your arteries during each heartbeat's active and resting phases. The common healthy reading for blood pressure should be around 120/80. Low blood pressure can be classified as anything at or below a reading of 90/60, reports MayoClinic.com. This treatable yet life-threatening condition is typically caused by an underlying problem and monitoring your blood pressure during activity like stair climbing is crucial to determine how quickly your blood pressure changes.
Symptoms
Dizziness, lightheadedness, fainting, blurred vision, nausea and thirst are a few symptoms that may occur with low blood pressure, though the cause for each may be different. Hypotension can also occur without symptoms, being present in athletes and those who eat well and maintain a healthy weight for their body.
Types
Low blood pressure can be broken down into different types. Postural or orthostatic hypotension would best be related to climbing stairs. A quick drop in blood pressure can occur when standing from a seated position or standing after lying down. For those with regular blood pressure, standing up causes blood to pool in your legs, which increases your heart rate by your body compensating for the blood and constricting blood vessels so enough blood returns to your brain. Those with postural hypotension do not experience this compensation, leading to decreased blood pressure, dizziness and blurred vision. Attempting to climb stairs too quickly after standing could affect your blood pressure and cause unwanted symptoms.
Exercise
Stair climbing and other forms of exercise are shown to lower blood pressure if done 30 minutes or more most days of the week. In a report ran by the New York Times in March 2009, sedentary people have a 35 percent higher chance of developing high blood pressure than those who exercise regularly. For those who already have low blood pressure, however, exercising can cause blood vessels to dilate and contribute to your condition. Symptoms may worsen from increasing your heart rate.
Solution
Those affected by orthostatic or postural hypotension should determine what activities increase their symptoms. Be cautious when standing after sitting or lying down and avoid abrupt transitions. When exercising, consider wearing fitted elastic stockings to reduce the pooling of blood in your veins. Take your time climbing stairs and speak to your doctor to determine other precautionary details or medications that may decrease symptoms.