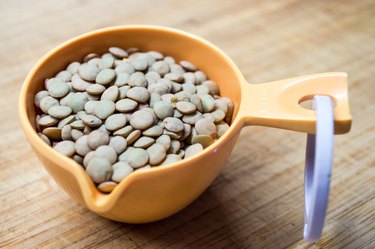 The One Cup Diet is a nutritional dietary regimen that you can use to help lose weight in a fast, efficient manner. This diet is relatively simple to implement and focuses more on portion size as opposed to specific food items. The One Cup Diet's uncomplicated nature allows for the user to practice the diet in the comfort of his or her home. Speak to your doctor for more information on this diet and if it is appropriate for your specific weight loss goals or condition.
History
According to the 1st Holistic website, the One Cup Diet works exactly how it sounds: meal portions are limited to one cup in size or content. One suggestion listed on the website is for users of this diet to structure their meals according to whatever will fit into a Styrofoam cup as a means to limit portion size. There are no specific dietary limitations associated with the One Cup Diet.
Foods
Users of the One Cup Diet are able to choose their meal items at will, keeping in mind their size or portion remaining within the one-cup limitation. Smaller foods such as berries, grains, beans, or vegetables can be used relatively easily with this diet; however, larger items like meats or bread may be more difficult. Meals are eaten three times a day with this diet plan every other day. Regular meals can be eaten on opposite days of the week.
Benefits
Smaller portion sizes associated with the One Cup Diet may assist in promoting weight loss in many individuals, according to the MayoClinic.com. The One Cup Diet also helps promote a sense of discipline as you must structure your meals within strict portion limitations. Smaller foods like specific fruits and vegetables also feature low calories and carbohydrates which can further lead to weight loss.
Risks
Malnutrition is a concern with limiting meal portions to an extreme degree. As the MayoClinic.com suggests, your body requires many minerals, vitamins, and nutrients found in the food you eat on a daily basis. Limiting yourself to smaller meals on a regular basis may lead to a deficiency in a particular vitamin or mineral.
Misconceptions
The One Cup Diet alone may not offer you the weight loss benefits you are seeking. As such, your doctor may also recommend an exercise or physical activity program to use while also watching your food portions. Weight loss results may differ from one user to the next.